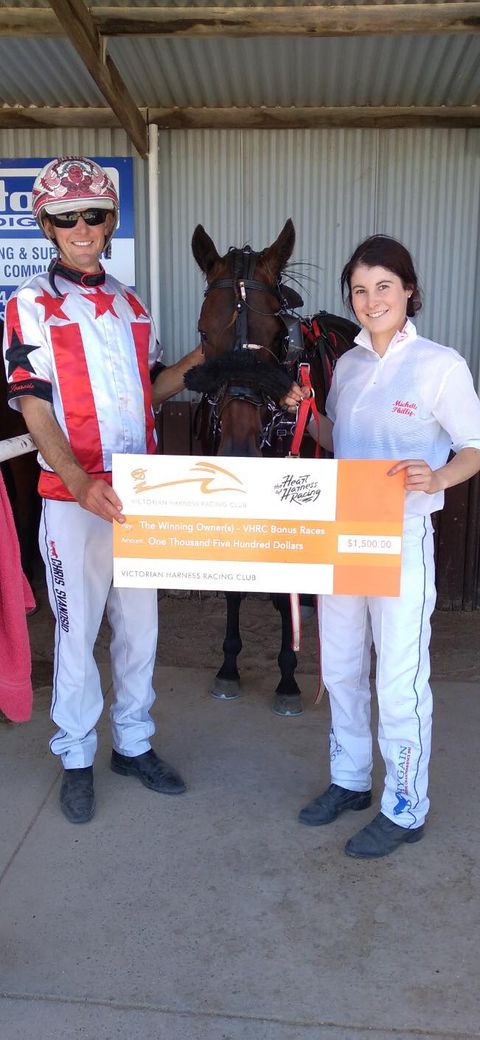 Sun 27 Dec 2020, 8:34 am
Congratulations to all VHRC members who have taken advantage of the opportunity to join the club and receive the benefits of the owners and trainers bonus scheme.
Paid up owners and trainers were delighted to have been able to reap the rewards as their horses greeted the judge.
VHRC member Len Baker continues to look at the latest winners during December
Bendigo played host with an eleven event card taking place during the afternoon and Christmas came early for some members who earned the bonus.
THURSDAY DECEMBER 24 – BENDIGO
OWNERS
A large group consisting of Clare Payne, P Maloney, Peter Svanosio, MacLean Family Group, Sue Hocking and Bruce Holmes were elated when their Muscle Mass-Royal Relations filly Abundance scored in the 2150 metre VHRC – APG – APGS Bonus Race Series 2Y0 Trotters Mobile.
Trained and driven by Romsey's Chris Svanosio, Abundance at start number five led from gate two and after being rated to perfection, kicked clear in the straight to record a 11.1 metre victory over pole marker Yankee Lover (three back the markers) which led up the outside division from the bell on debut ,with another first starter Algorithm (gate 4) third after trailing the winner. The mile rate 2-04.7.
Clare Payne is a member of a strong Western District family involved in the sport for many years, her father Ray provided a number of winners over a long period of time.
The MacLean Family Group of which renowned veterinary surgeon Alistair MacLean is part of have raced a number of winners and are always excited when their horses reach the wire.
Peter Svanosio (Chris' father) has also been part of the trotting scene for many years driving his first winner Cascade Mac for Strathfieldsaye trainer Ian Mckay. Peter also had a long association with former South Australian trainer the late Dick Benger who was based at Eddington and
Sue Hocking is Chris's mum, while Bruce Holmes has had an interest in a horse or two on a number of occasions.
Owner/breeders J Stewart and L Koroznikova bred and race Courage Under Fire-Marfusha gelding Rueslan who was successful in the APG 3Y0 Maiden Pace over 1650 metres, giving Chris Svanosio a training/driving double on the day. Going forward from gate five to park outside the first starter and heavily backed favourite Exalted Figure which led from gate two on debut, Rueslan strode clear on straightening to register an impressive 9.2 metre margin in a rate of 1-56 from Asterism which trailed from the pole. Exalted Figure held down third 3 metres away.
Noel Alexander has been in the sport for a long time training a plethora of winners over the years including the great Golden Reign who won the 1995 (Addington NZ) Inter Dominion Championship. Noel races Betterthancheddar-Incendio colt Krafty Bart which greeted the judge in the 2150 metre Don't Miss Out On The VHRC Bonuses Pace. Trained by Emma Stewart and driven by Jack Laugher, Krafty Bart led from the pole and given an easy time, toyed with his rivals to win by 14.3 metres in advance of Markleigh Caz which trailed in a rate of 1-56.4. Im The Mighty Gramps was third 10.5 metres back off a three wide trail from mid-field in the last lap.
Noel assists partner and trainer Jayne Davies with her team at Clyde in the Cranbourne area.
Popular Longlea trainer Glenn Sharp was victorious with ever reliable 7Y0 Tennotrump-Delta Spark mare Mystic Chip in the Become A VHRC Member Today Trotters Handicap over 2150 metres.
Raced by Glenn and wife Christine, Mystic Chip driven by Josh Duggan was given the run of the race from barrier three trailing the pacemaker Gooroc Gambler (barrier five). Easing away from the inside on turning, Mystic Chip ran home strongly to score by 8.2 metres over the leader, with 10Y0 gelding Jaden Gil (10m) running on late from five back the markers for third 1.3 metres away when making his 166th race appearance. The mile rate 2-03.9.
Glenn who loves the trotters started off at a young age assisting his dad Bill and after shifting to Bendigo, became associated with Henry McDermott, having a lot to do with handy type Frosty Vee Bee. He has enjoyed success with the likes of bread and butter types Tennoeagle, Tenno Dance, Tella Tall Tale, Tenno Sho, Tiroroa Tom, Spud and Gidah to name just a few.
He had two great seasons in 2014/15 and 2015/16 training 16 and 15 winners respectively.
The Become A VHRC Member Today Pace over 2150 metres went to 3Y0 Bettors Delight-Our Petite Souer filly Minuscule in a rate of 1-57. Raced by Paul Nixon, the brother of well known breeder Shannon, Minuscule trained by Emma Stewart and driven by Kate Gath led throughout from the pole and without any pressure being applied, comfortably recorded a 2.8 metre victory from Major Assassin which raced outside her. Major Manbar ran on late from four back the markers to be third a half head back. Paul along with Clayton Tonkin, the late Kevin Lewis and Geoff Armstrong bred the filly.
Terang trainer Marg Lee combined with nephew Glen Craven to land the 2150 metre Check Out The VHRC Website www.vhrc.org.au 3Y0 Pace with A Rocknroll Dance-Jilliby Ruby filly Jilliby Rhythm in easy fashion, but not before giving her supporters some cause for alarm.
Bred and raced by the Craven Family Group, Jilliby Rhythm wasn't all that quick away from gate two, settling on the back of the leader Polly Peachum which flew away from gate four. When Polly Peachum handed over to Sassys A Terror racing for the bell putting Jilliby Rhythm three back the markers, she looked to be in trouble snookered three back for the final circuit. Extricated into the clear to make the final bend four wide, Jilliby Rhythm picked her rivals up with ease in the shadows of the post to score by 3.2 metres in a mile rate of 1-56.8 from Execution Oro which raced parked from the bell. Keilah (three wide last lap from the rear) was third a neck away after switching to the sprint lane on turning.
The Craven Family (and there are many) have raced a never ending list of numerous classic and feature race winners over the years and continue love their harness racing.
TRAINERS BONUS
Chris Svanosio (2)
Mary Jane Mifsud *
Anton Golino & Jack MacKinnon *
Glenn Sharp
Marg Lee
Mary Jane Mifsud the daughter of Austin & Julie Mifsud is married to Philip Walters and captured the Order Your Yearling Sales Catalogue @ apgold.com.au 2Y0 Pace over 1650 metres with Captaintreacherous-Nikita Maguire filly Backwards First in a mile rate of 1-59.1. With Glenn Douglas in the sulky, Backwards First led from the pole before taking a trail on Delightful Anna which sprinted sharply after being trapped three wide from gate five. Easing away from the markers on the home turn, Backwards First ran on well to prevail by a metre from Delightful Anna and the favourite Seachange (one/one – three wide home turn) who was 1.6 metres away in third place at her first outing since July.
Anton Golino and Jack MacKinnon are co-trainers at Pat Driscoll's Yabby Dam Farm Complex at Cardigan and provided Andover Hall-Showmethemaori colt Meydan to lead throughout and blitz his rivals in the View APG's Online Guides @ apgold.com.au 3Y0 Trotters Mobile over 2150 metres, accounting for Reigning Lillies (one/three) by 32.4 metres in 1-59.2. Aldebaran Alissa (one/one at bell) was third a neck away.
While Anton needs no introduction having been based in Victoria for a fair while after an extensive career in Europe, Jack has only recently rejoined the team from New Zealand where he drove plenty of winners and still has the occasional drive today.
Marg Lee the mother of Jason and Paddy Lee and aunt of Glen and Matthew Craven plays a strong role in the Craven family dynasty being a sister of Peter Craven. The family have provided a multitude of winners over the years from their property "Jilliby" situated just outside Terang.