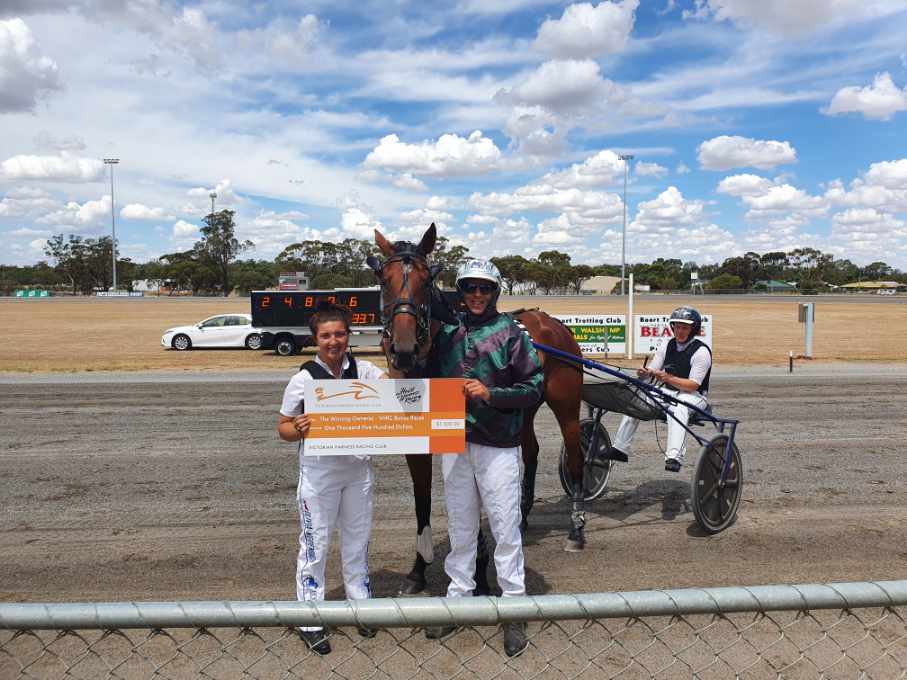 Mon 4 Jan 2021, 12:22 pm
Congratulations to all VHRC members who have taken advantage of the opportunity to join the club and receive the benefits of the owners and trainers bonus scheme.
Paid up owners and trainers were delighted to have been able to reap the rewards as their horses greeted the judge in their respective races.
VHRC member Len Baker continues to look at the latest winners to start the new harness racing season.
Boort the oldest surviving trotting club in Victoria (established 1891) hosted the January 3rd fixture which included the time honoured Central Victorian Pacing and Trotting Championships.
SUNDAY JANUARY 3 – BOORT
Noel Alexander along with partner Jayne Davies have recorded hundreds of winners including numerous classics as trainers over the years with some outstanding horses none better than Inter Dominion winner Golden Reign and brilliant mares Tailamade Lombo and Concorde Lombo.
Noel is listed as the owner of 4Y0 Betterthancheddar-Incendio 4Y0 entire Krafty Bart who captured the 61st running of the $25.000 the Don't Miss Out On The VHRC Bonuses / Boort Grain Co-Op Central Victorian Pacing Championship over 2200 metres. Trained by Victoria's premier combination of Emma Stewart and Clayton Tonkin, Krafty Bart was responsible for a tough performance. Driven by ex-Tasmanian Jack Laughter, Crafty Bart trapped wide from gate five was able to slot in to the prime one/one position as Sports Wrack led for John Justice from gate two. Pushed back a slot when Monsieur Delacour (one/two) went forward mid-race to park in the open, Laugher not wanting to risk a pocket on the tight track eased Krafty Bart three wide racing for the bell and remained there for the rest of the journey. Sweeping to the front on the final bend, Krafty Bart reached the judge 7.2 metres in advance of Markleigh Caz along the sprint lane off the back of Sports Wrack which held down third 1.2 metres away. The mile rate 2-01.1.
Noel explained that Krafty Bart was sent to Emma and Clayton due to the fact that with the majority of their stable being youngsters, there was really nothing to work with and the horse needed to adapt to a higher level.
The most elated winners on the day were Kerang's Campbell family Trevor, Kaye and Craig when their 4Y0 Imperial Count-Aladen Star mare Bellmac Bambi broke her maiden status when successful in the APG & APTS Yearling Parade – 6PM Friday 5 February Trotters Handicap over 2250 metres. Trained at Longlea by Glenn Sharp, Bellmac Bambi driven by Josh Duggan led throughout from barrier two and after being rated to perfection, scored by 4.8 metres in a mile rate of 2-10.9 from 30 metre equal backmarker Zoomas Legend (four wide last lap) which flashed home late with Jack Of The Green third a half head back after trailing the winner. Bellmac Bambi was making her 29th race appearance having been placed on eight occasions.
It was Trevor and Kaye's first ever winner having been followers of the trots for a number of years, while son Craig has enjoyed previous success racing horses with his good mate Teddy Carmody.
The Campbell's have farming property in Kerang.
Trevor was full of praise for the VHRC for the implementation of the race bonuses.
TRAINERS BONUS
Jody Woodham Murdoch - Magic Cruiser - Join The VHRC 'The Heart Of Harness Racing Pace over 2250 metres.
With James Herbertson in the sulky, Magic Cruiser went forward from gate six to raced exposed before gaining cover from Tic Tact. Easing wide on the home turn, Magic Cruiser a 8Y0 Jeremes Jet – Scentiment gelding ran on well to prevail by 6.3 metres from the pacemaker Polly Peachum in a rate of 2-02.9. Irishmurphy after trailing the leader was third 6.9 metres away.
Jody is a long term trainer and drove regularly early in her career, she has 12 training wins to date, mainly with bread and butter type horses who are usually in the finish.
Glenn Sharp – Belmac Bambi - APG & APTS Yearling Parade – 6PM Friday 5 February Trotters Handicap over 2250 metres – See above
Stephen Clarke – Bona Khan – APG Bringing The Sales & Races To Owners Pace over 1900 metres.
With son Connor driving, Bona Khan first up for the stable was sent forward from gate four to race exposed and despite the tough trip, kept on giving on turning to gain the day by a half neck from the leader Mighty Regal which would have given Jody Woodham a double. Thelongroadtoknowhere was third 6.7 metres away after leading out from the pole and handing over to the runner up when pressured. The mile rate 1-58.8.
Stephen and Connor have enjoyed a stellar season with Miss McGonagall and Monsieur Delacour chalking up multiple victories.
Stephen's dad Jim plays a major role with the stable as Stephen is employed by McCains in Ballarat.