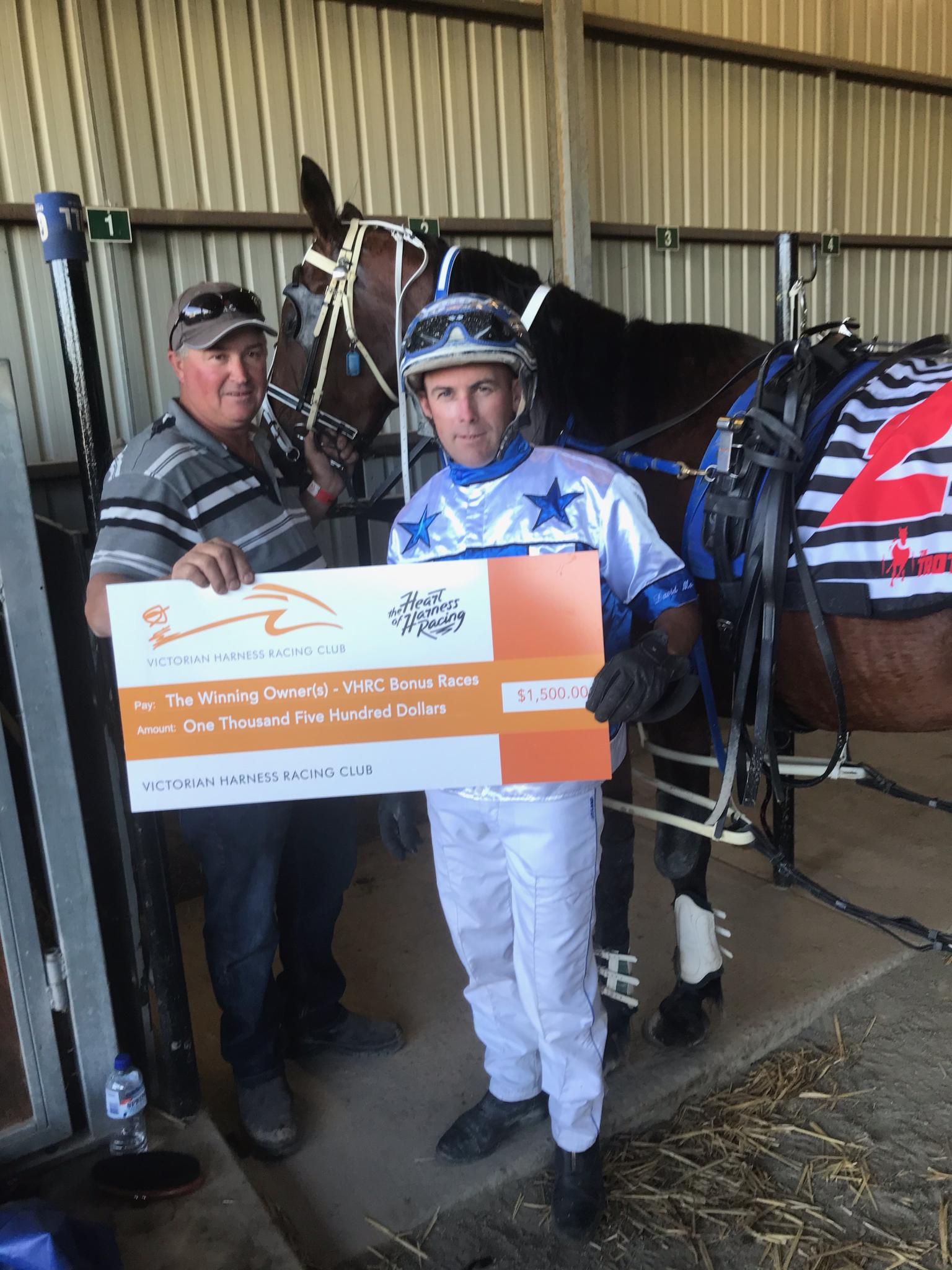 Thu 17 Dec 2020, 11:31 pm
Congratulations to all VHRC members who have taken advantage of the opportunity to join the club and receive the benefits of the owners and trainers bonus scheme.
These owners and trainers were delighted to have been able to reap the rewards as their horses greeted the judge.
Long time VHRC member Len Baker looks at the winners during December
THURSDAY FEBRUARY 3 – SHEPPARTON
--------------------------------------------------------------
OWNERS
Three year old Pet Rock-Davids Lady gelding Jemsons Pet raced by Greg Lewis, Estate of W.H. Szwanenfield and G Small scored in the 2190 metre Become A VHRC Member Today Pace. Trapped four wide after going forward from gate six as the start was effected, Jemsons Pet trained at Tatura by Craig Turnbull and driven by daughter Abbey, crossed to lead hitting the back straight and was never headed, reaching the wire 6.2 metres clear of Betternbetter which trailed in 1-58.5. Valiente (one/three – three wide last lap) was third a head away.
Greg has spent over 50 years in the sport having been based in Appin (NSW) before shifting the Victoria and is presently working three horses. In the nineties he enjoyed huge success with two horses by the name of Stormbro and Akrabah who were regular winners at Harold Park. He was thrilled with the performance of Jemsons Pet at Shepparton and dedicated the victory to his late partner Wendy who passed away last August. He also congratulated the VHRC on this latest incentive.
Lauriston Bloodstock's 3Y0 Somebeachsomewhere-National Gallery gelding Honolua Bay was victorious in the Order Your Yearling Sales catelogue@apggold.com.au Pace over 1690 metres much to the delight of Bill and Anne Anderson. Driven by Josh Aiken for father David, Honolua Bay came from near last at the bell with a searching run four wide hitting the home turn to register a 3.1 metre margin over Spy Major and Janjuc in a slick 1-53.6.
Bill and Anne have a number of beautifully bred brood mares, having raced the majority of their progeny with huge success, especially Victoria Derby and Breeders Crown victor Our Little General and this year's Breeders Crown winner Ladies In Red. They presently have eight foals on the ground and have five racehorses in work. They expressed plenty of gratitude to the VHRC on the introduction of this bonus scheme.
Changeover-Shortys Treasure filly Changeover Girl raced by T & L Nominees Pty Ltd making her race debut for Kialla co-trainers Stephen O'Donoghue and Rebecca Bartley was a tough winner of the 2190 metre APG & APTS Sales – Midday Sunday 7 February 3Y0 Pace. Driven by Bec, Changeover Girl (foaled at Morley Park) raced in the open throughout, proving too solid at the finish for Yarrawonga Lassie by 2.1 metres, with Smiling 8.9 metres away in third place. The mile rate 2-01.3.
Steven's late father Ben bought Morley Park in 1982 and several handy stallions have stood there including Classic Garry, Red Coach Glory, Bacardi Lindy, Metropolitan and Major Bronski.
Stephen was so complementary towards the VHRC initiative, suggesting to most of his stable clients to join the scheme. Presently the stable has 17 horses in training with the star of the team San Carlo ready to resume in the next few weeks.
The Mighty Gramps, a Western Terror-Cracker Three gelding raced by J W Laker and A Mifsud was a strong winner of the Check Out The VHRC Website www.vhrc.org.au 3Y0 Pace over 2190 metres for Glenn and Daryl Douglas. Taken back to the rear from outside the front line, Im The Mighty Gramps came with a barnstorming finish out wide on turning to record a 2.3 metre margin in 1-59.6 from Lets Make Tracks and Notorious Joe.
David Cochran's 5Y0 Bettors Delight-Shakali mare Shakatie trained by the O'Donoghue/Bartley combination snared the 1690 metre APG & APTS Yearling Parade – 6pm Friday 5 February Maiden Pace. With Bec in the sulky, Shakatie led throughout from the pole to reach the judge 1.3 metres in advance of Falling Shards and Ted And Ned in a mile rate of 2-02.7. David's family including long term former HRV chairman Graeme Cochran have been involved in the sport for a long period of time.
Shakatie is a daughter of Shakari the mother of 2000 Inter Dominion winner Shakamaker (Bookmaker) who died last year at the age of 23.
In-form 6Y0 Julius Caesar-Symphonic Jade mare Sassyfeet raced by trainer Geoff Allen and wife Jenny driven by David Moran, ran home strongly from three back the markers in the Join The VHRC 'Heart Of Harness Racing' Pace over 2190 metres to register a easy 10.2 metre victory over Melinka and Imapest in 1-59.5. A good dooer, Sassyfeet needs to be worked hard to keep her racing weight spot on.
Geoff originally from Forbes in NSW re located to Echuca in 2006 and has enjoyed a limited number of success with horses such as Star City Roller and My Billyjasper. Geoff was absolutely wrapped to receive the bonus and paid Rob Auber a huge complement for the instigation of such.
John Gilmore's Sweet Lou-Genazzano gelding Dessie Gee trained and driven by Laura Crossland led for most of the 2190 metre Become A VHRC Member Today 2Y0 Pace to account for Le Belle Bijoux and Girl From Oz in a 1-58.4 mile rate.
Avenel part-owner/trainer/driver Juanita Breen produced a nice Kiwi bred 4Y0 Bettors Delight-Ginnie Moonmare by the name of Lottie Moon at Shepparton to land the VHRC – APG – APTS Bonus Race Series Pace over 2190 metres. First up in Oz, Lottie Moon was taken back from outside the front line to the tail of the field before going forward wide in the last lap. Despite making the home turn very wide, Lottie Moon picked up her rivals with ease in the straight to record a most impressive 2 metre margin in 1-59.6 over Lombo Idle Belief and Midnight Queen. A M Brown, J Kreskas, N Boyer, C J Clark, C D Breen and S Pearce also share in the ownership.
A tiny filly purchased after looking at many video's in New Zealand, Lottie Moon has a bright future. Juanita is developing a really nice team at present with the large syndicate of owners (many for the first time) receiving a pleasant surprise when informed about the bonus. Juanita was full of praise for the VHRC saying that "owners will benefit greatly from the scheme" and offered the club congratulations on the instigation of such.
The David Moran trained and driven ex-Kiwi 4Y0 Art Major-Maravu Haley mare Marianna Bromac raced by T M Taylor, G P Cooper, P E Fiumara and D M Taylor, opened her Australian account when successful in the Don't Miss Out On The VHRC Bonuses Pace over 2190 metres. Quickly away from an inside second line draw to settle mid-field, Marianna Bromac went forward with a rush in the last lap to lead on turning and score by 11.8 metres from Lifeinquestion and Causing Strife in a 1-59.6 mile rate.
TRAINERS
Laura Crossland, Juanita Breen, Stephen & Rebecca Bartley and Glenn Douglas were all recipients of the trainer bonus at the meeting.
The VHRC sincerely thank Ian McDonald and the Shepparton Harness Racing Club for the bonus race photography on the night.