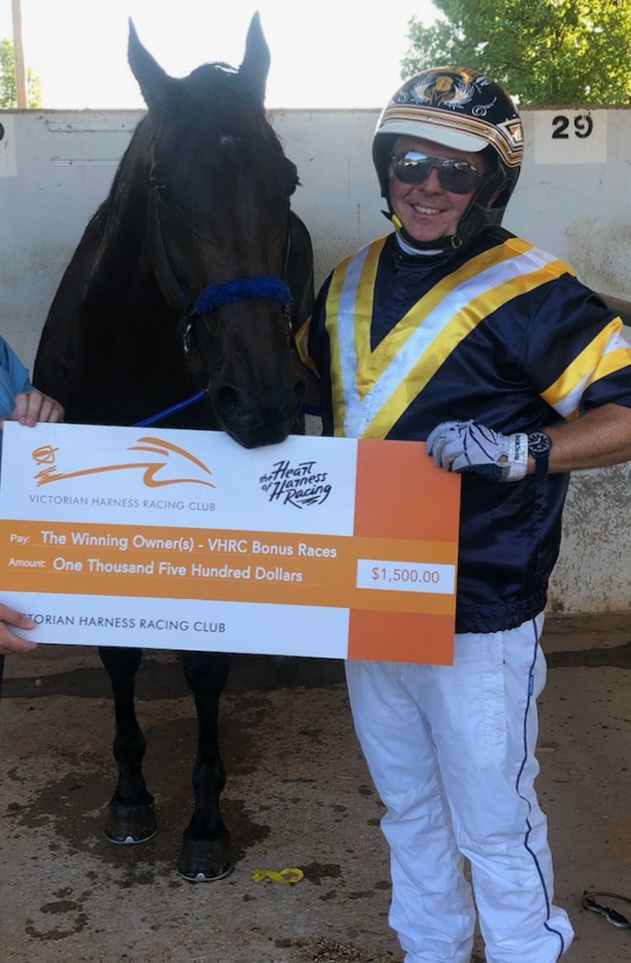 Tue 22 Dec 2020, 6:16 pm
Congratulations to all the bonus race winners at Swan Hill last weekend.
These owners and trainers were delighted to have been able to reap the rewards as their horses greeted the judge.

SUNDAY DECEMBER 20 – SWAN HILL
OWNERS
A terrific meeting sponsored by the VHRC and APG was held at Swan Hill last Sunday featuring an even eight event card with every event carrying a bonus for lucky connections who are members of the club.
Horsham trainer Aaron Dunn snared the 2240 metre APG & APTS Yearling Parade – 6PM Friday 5 February Pace (Heat 3) with 5Y0 Bettors Delight-Lets Talk Art gelding Lets Hustle in a rate of 1-58.6. With owner Stephen Blacker in the sulky, Lets Hustle led throughout from the pole to defeat Cobalt Blues which trailed by a nose after using the sprint lane, with Whata Rockstar (one/two – three wide last lap) 1.9 metres back in third place.
Stephen Blacker a relative newcomer to the driving ranks has recorded three wins. Originally from Mortlake, but now based in Horsham, Stephen has a long background with horses (especially in the galloping field), but has been a trots fan for over 30 years.
He learnt the trotting trade from former Woorndoo trainer Bob Mahncke and apart from harness racing, umpires football in the Wimmera League.
Stephen was rapt in winning the VHRC bonus.
Strathfieldsaye trainer Julie Douglas combined with brother-in-law Daryl Douglas to land the APG & APTS Sales – Midday Sunday February 7 3Y0 Maiden Pace over 2240 metres with Auckland Reactor-Monicas Revenge gelding Would You Mind which was making his race debut. Given the run of the race one/one from gate four, Would You Mind when eased three wide on the home turn raced away in the straight to record an easy 4.5 metre margin over Markleigh Reign also making her first race appearance, running on nicely after trailing the pacemaker Pippa Bliss who was third 6.8 metres back. The mile rate 1-57.4.
The pair brought up a double when home bred American Ideal-Smooth Laura filly Ozzie Playgirl led all of the way from gate two in the Check Out www.vhrc.org.au 2Y0 Maiden Pace over 1750 metres. Travelling under a tight rein, Ozzie Playgirl was always in control, scoring virtually untouched from So She Said which trailed and Abbie Lincoln off a three wide trail last lap from the tail in a rate of 1-59.5. Both winners are raced by Julie's parents Eric and Heather Anderson.
Eric and Heather Anderson have been on top of the Victorian owners table for many years having won numerous feature cup races in the state as well as being regular visitors interstate with success. They make a habit of purchasing New Zealanders who appear to go through their grades without any difficulty.
Eric and Heather's best winners have been multiple cup winners Franco Tiger, Bold Cruiser and Hezatrick, with Eric having no hesitation in naming Franco Tiger as his all time favourite.
Julie Douglas has only been training a short time and has chalked up a 30 winners to date. She also held a drivers licence at one stage enjoying success.
Former NSW 5Y0 Auckland Reactor-Weekend Detention mare Alibi registered her first success at start number 32 when taking the Become A VHRC Member Today Maiden Pace over 1750 metres. Raced, trained and driven by Great Western's Grant Campbell, Alibi was beaten for speed from the pole by Caballo Diablo next door, settling on his back. Not bothering to wait for the sprint lane to come into play, Alibi was angled three wide halfway up the running and once in the clear, picked up her rivals with ease to record a 1.7 metre margin in 1-58.6 from Rocking Wroxton (one/two – three wide last lap) returning a mile rate of 1-58.6. Awesome Reactor battled on gamely for third 4.2 metres back after racing uncovered.
Grant married to Kerryn Manning is a long time participant of the industry and supplements his income by taking horses to overseas destinations.
The 2240 metre APG & APTS Offers $2.2 Million In Prizemoney Trotters Handicap went the way of bonny Kiwi bred 4Y0 Monkey Bones-Idle Fiori gelding Blue Coman raced by Adelaide's AB&T Cormack Racing Pty Ltd (Managed by A J Cormack). Trained at Charlton by ex-South Australian Greg Norman, Blue Coman driven by Kerryn Manning starting from a 30 metre backmark wasn't bustled to make ground and after avoiding a couple of gallopers, settled five back along the marker line. Moving to lead up the outside division racing for the bell, Blue Coman's ability stepped in and he surged to the front prior to the home turn, winning in a breeze by 30.9 metres from Mumstheword which trailed the weakening leader and third placegetter Primz Luck who was 1.8 metres back. The mile rate 2-02.3.
The Cormack family have raced numerous horses (mainly in Adelaide), and have never been afraid to travel interstate with members of their team.
The Cormack's have a thriving pig marketing business where they breed and sell all over Australia.
One of their all time great horses was the mare Ananz who won 30 races when trained by Peter Manning.
Greg Norman from a famous trotting family, has provided many winners mainly in his home state, in particular Karwartha Robust gelding Rosco Robust who was victorious on 29 occasions.
TRAINERS
Neville Pangrazio
Julie Douglas (2)
Greg Norman
Grant Campbell
Rochester's Neville Pangrazio was successful in winning the VHRC trainers bonus when 7Y0 Bettors Delight-Apennyspent gelding Return Soldier scored in the View APG's Guides @ apgold.com.au Pace over 1750 metres. Starting from the extreme draw, Return Soldier spent most of the race at the rear of the field as Bettor Romance led from gate two. In what was a gem of a drive by James Herbertson who weaved in-between runners in the last lap to be one/one approaching the final bend, Return Soldier was switched down to the sprint lane on turning and raced away to register a 4.2 metre margin over the pacemaker, with Stormont Star 2.6 metres away in third place after racing exposed. The mile rate a slashing 1-53.7.