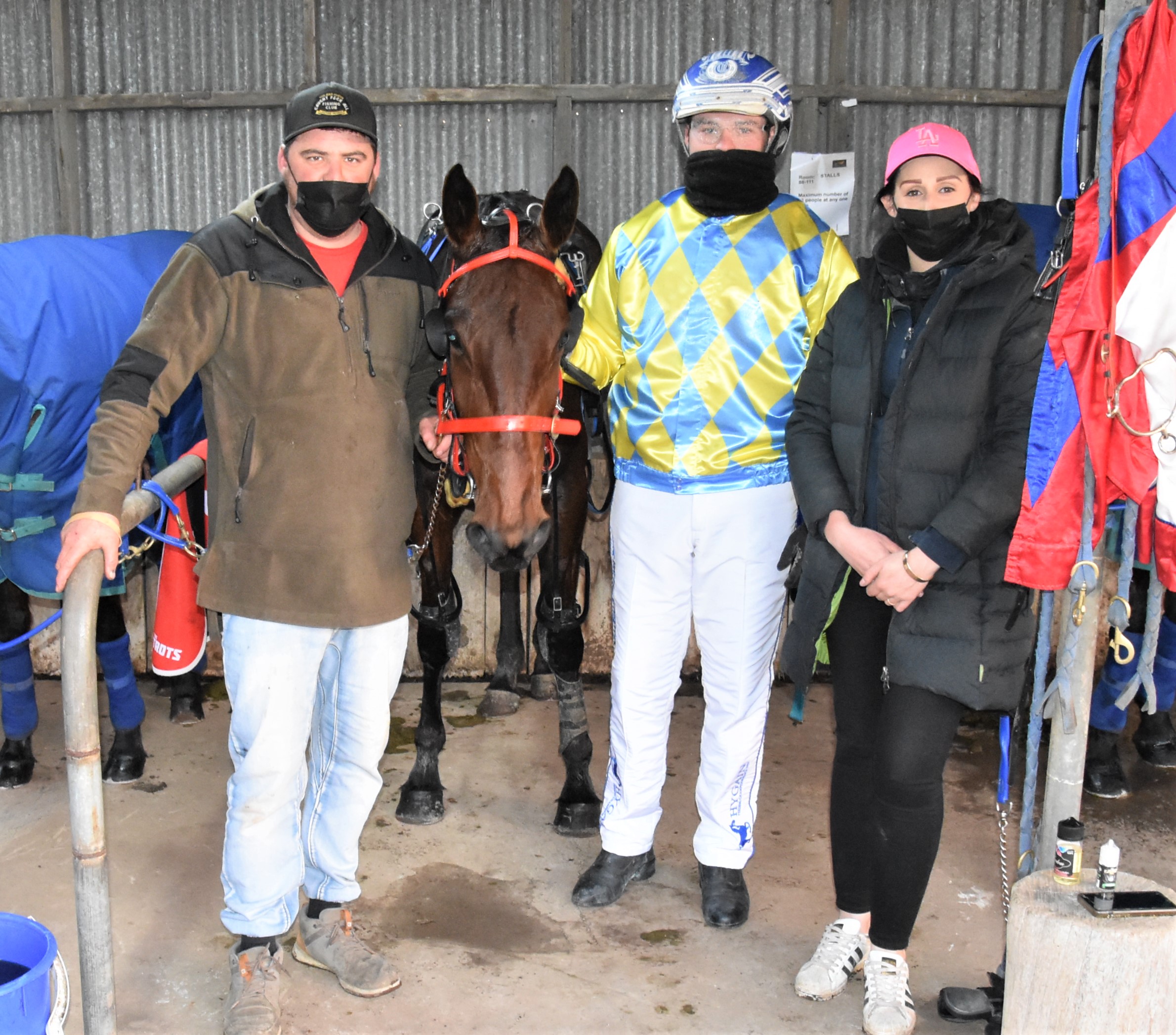 Wed 18 Aug 2021, 8:57 am
The most recent VHRC Bonus meeting took place at Terang on Tuesday August 17 when a plethora of connections (owners and trainers) were recipients of the bonus scheme and reaping the rewards for being so.
If you have not joined as yet and would like to - give Kelly Ternouth a call (0408 570197) or e-mail contact@vhrc.org.au
VHRC member Len Baker looks at the latest winners.
TUESDAY AUGUST 17 - TERANG
Two of Australasia's biggest owner/breeders - NSW based Emilio and Mary Rosati were successful with Somebeachsomewhere-Lilac Stride filly Coral Stride in the APG & APTS Offers $2.2M In Prizemoney 3Y0 Maiden Pace over 2180 metres.
Trained in Victoria's Central Highlands District by AJ and Beau Tindale, Coral Stride racing under the banner of E & M Stride making her race debut was driven confidently by Brad Chisholm and safely retained the front running from the pole.
Kicking clear on the final bend, Coral Stride scored easily by 7.4 metres in advance of Keayang Speak (gate seven) which raced outside her from the bell after going forward from three back in the moving line. Zwick was third 2.2 metres back after trailing the winner. The mile rate 2-00.6.
Carrum Downs owner/breeders Tony & Pam Coniglio have won previous bonus races and snared another when home bred Art Major-Itz Nosurprisesthere colt Heza Son Of Agun landed the APG – Bringing The Sales & Races To Owners 2Y0 Pace over 2180 metres. Trained locally by Mattie Craven and driven by Sophia Arvidsson, Heza Son Of Agun began very fast from gate five to lead before surrendering to last start winner Ira Poole mid-race. Appearing to have plenty in hand approaching the home turn, Heza Son Of Agun used the sprint lane to record a 1.9 metre margin over Ira Poole in a mile rate of 2-01.1. Soho Dow Jones which raced exposed from the bell gave ground over the concluding stages to finish 7.4 metres away third.
Tony and Pam have raced many horses over the years and no doubt are enjoying their recent successes.
Mattie Craven received the trainers bonus making it a great race for the stable.

Ashley Manning's 5Y0 Sportswriter-Hold That Dream gelding Sport Dreamer was the victor of the 2180 metre APG – Serving The Industry for 32 Years Pace in a mile rate of 2-01.9.
Trained at Great Western by Peter Manning and driven by daughter Kerryn, Sport Dreamer began brilliantly from gate five to lead and after being rated to perfection, greeted the judge 2.5 metres clear of polemarker Shaded which trailed easing off his back on straightening, with The Diamond King (gate two) 6.7 metres back in third place after following the pair.
There was no trainers bonus applicable.

Ballarat owner Gerard Cahir's won his second bonus race when Somebeachsomewhere-Bring Her Back 4Y0 gelding Nai Harn Bay was victorious in the APG – The Industry's Not For Profit Sales Co Pace over 1680 metres.
Trained by and driven by son Nathan from Smythes Creek (Ballarat), Nai Harn Bay began with great speed from gate five to pounce on the lead as the mobile pulled away and after enjoying an easy time, kicked away with the race in his keeping on the home turn to score by 5.8 metres from Spacewriter (gate four) which raced exposed for the last half of the journey. Imagoldcloud (gate 7) three wide to the death seat, then one/one was third a half neck away. The mile rate 1-57.1 (final quarter 29.5).
Nathan Cahir who was one of the state's leading junior reinspersons a number of seasons back also pocketed the trainers bonus.

Local trainer Matty Horsnell snared the bonus when much travelled ex-Kiwi 7Y0 Tintin In America-For The Girls gelding For Tony first up since last November, was successful in the Goodtime Lodge/VHRC Pace over 1690 metes, returning a mile rate of 1-56.7.
Raced by a large local syndication who were unfortunately not listed as eligible for the owners bonus, For Tony driven by youthful Lochie Cook began fast from gate five to lead and was never headed, reaching the wire 1.1 metres clear of Wingate Guy (one/two at bell – outside winner home turn). Consistent gelding Kempseys Delight was third 13.3 metres away after trailing the winner.
Matty Horsnell originally from the Werribee/Litte River area used to assist Danny and Gil Norris and the Caldow's before making the move to Terang where he assists the Lee stable and trains a small team of his own.

Meredith co-trainers Emmett and Richard Brosnan landed the 2180 metre VHRC / Aldebaran Park Benefiting Our Members Trotters Handicap with Kiwi bred The Pres-Baltic Sun 6Y0 mare Baltica in a mile rate of 2-07.5. Driven by Emmett, Baltica bred and raced by Richard and Julija Brosnan after stepping cleanly from 20 metres settled beautifully one/one as Aldebaran Rocky led from barrier three.
In a leader dominated affair, Baltica eased three wide running into the final bend and finished off his race nicely to gain the day by 2.5 metres in a pedestrian rate of 2-07.5 from Elegant Jet (four wide home turn) which followed him throughout. Aldebaran Rocky held down third 4.1 metres back.
Ex-Kiwi Richard Brosnan is a former Inter-Dominion winning trainer/driver who won the 1970 Christchurch Trotting Series with a wonderful gelding by the name of No Response who produced a brilliant turn of speed weaving in-between runners from near the rear to defeat Alby Logan and Silken in 2-07.5.
Apart from the owner bonus, Richard and Emmett also snared the trainer bonus making it a most profitable night at the trots.

Mount Gambier owner/breeders Peter and Lesley Medhurst have been involved in the sport for a number of years racing numerous horses in that time and collected the bonus when home bred 4Y0 Mach Three-Surfing Queen mare Sea Lover produced a strong effort to capture the 1690 metre Terang Co-Op / VHRC Pace. Trained at Heywood by Bec East who also received the trainers bonus, Sea Lover driven by Jackie Barker was trapped right off the track after starting outside the front line, progressing forward to occupy the spot outside the poleline pacemaker Chief Safari racing for the bell. Taking a slender lead approaching the home turn, Sea Lover was tenacious at the finish to register a neck margin in advance of Scene Of Terror (one/one), with Chief Safari holding third 2.3 metres away. The mile rate 1-56.9.
Bec East has trained over 136 winners on Victorian tracks as well as numerous winners in South Australia.

The locally syndicated Levarg Racing Group made up of members of the Lee and Craven families have won feature races galore over the years and race impressive three year old colt Jilliby Fernando which led throughout in the Become A VHRC Member Today Pace over 2180 metres. A son of Captaintreacherous and Metromint trained by Paddy Lee and driven by Codi Rauchenberger, Jilliby Fernando brought up four wins on end from five race appearances, scoring by 2.3 metres in advance of Maxactor along the sprint lane after trailing the winner. Dougs Babe (one/two – three wide last lap) was third a nose away after joining the winner on the home turn. The mile rate 1-57.6.
The syndicate received the bonus as did trainer Paddy Lee who has built up an impressive record since taking out his licence a couple of seasons back.