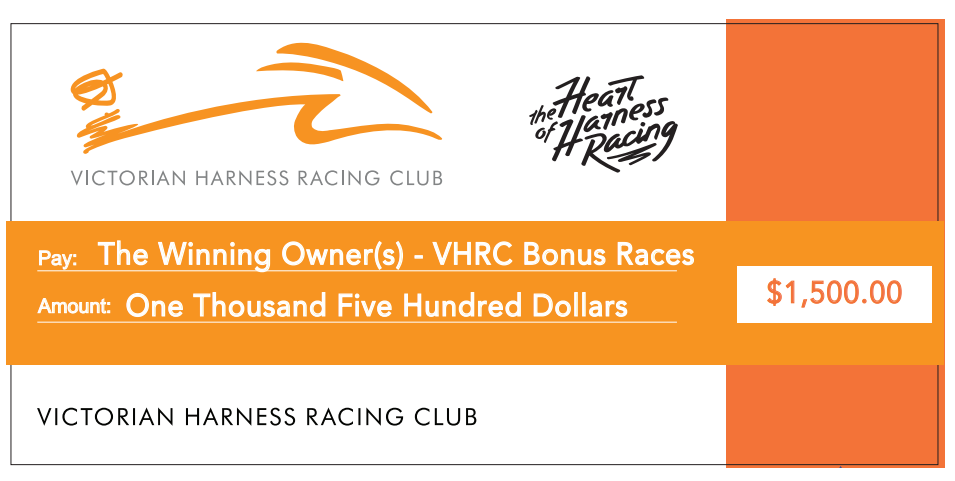 Thu 31 Mar 2022, 10:11 pm
Bendigo hosted the second of the Victorian Harness Racing Club Bonus meetings for the season on Wednesday March 30 which will continue all through the year.
You can enjoy the benefits by joining the club and if you have not done so as yet and would like to take advantage of the offers, give Kelly Ternouth a call (0408 570197) or e-mail contact@vhrc.org.au
Registered owners and trainers each receive a bonus whenever a horse wins at dedicated meetings plus you receive all the benefits the club has to offer.

VHRC member Len Baker looks at the latest winners.

WEDNESDAY MARCH 30 - BENDIGO
The VHRC / Aldebaran Park Benefiting Our Members 3Y0 & Older Maiden Trotters Mobile (Heat 1) over 2150 metres opened proceedings with Love You-Right Interest gelding Speedy Lover easily accounting for his rivals. Bred and raced by Kevin Riseley's Sheron Park, Speedy Lover trained at Avenel by David Aiken and driven by Chris Alford angled to be one/one racing for the bell after being wide in the early stages from outside the front line. Sprinting brilliantly three wide in the last lap to lead on the final bend, Speedy Lover careered away to register a 20.5 metre margin over the pacemaker Maori Muscle (gate four) which had crossed Boutika (gate three) in the back straight on the first occasion. Gaelic Lad after easing away from the markers three back and racing exposed was third 1.4 metres away. The mile rate 2-01.
Speedy Lover was the fifth winner from the dam – the others being Aimforthemoon (Angus Hall – 8 wins), Allthemoves (Muscles Yankee – 2), She Is The One – Muscle Hill – 3), Right Moves (The Best Madrik – 11) and Sweet On You (Love You – 5). Kevin Riseley has raced numerous winners over the years including Perth Inter Dominion victor Lennytheshark.
Heat Two saw popular Melton trainer/driver Ken Tippet victorious with Creatine-Alta Rihannah gelding Heir Apparent in a mile rate of 2-04.2. Raced by Ken in partnership with breeder Doug Moore (Brooklyn Lodge Aberdeen P/L), Heir Apparent began safely from gate four to lead and after appearing to be 'all at sea' in front, just lasted by a half head from rank outsider My Jerry (one/one) and Acool Investment (four back the markers) who was four metres back in third place.
Ken Tippet has driven around 344 winners and was a recipient of the VHRC Trainers Bonus scheme which would have added more delight to the victory.
Strathfieldsaye owner Peter Cole would have been all smiles after his Lennytheshark-Lorimerjane colt Heathbern Bruce on debut scored in the APG – Serving The Industry For 32 years 2Y0 Pace over 1650 metres. Trained by neighbour Julie Douglas, Heathbern Bruce driven by Jack Laughter was rated to perfection at the head of the field from gate four, winning stylishly by 1.6 metres in a rate of 1-58.1 ahead of the beautifully bred Andaman Bay (one/one at bell), with Dougs Platter a stablemate of the runner-up third a nose away after racing exposed from the bell.
Julie Douglas second in the Victorian Trainers Premiership last season also received the VHRC Trainers Bonus.
Six year old Art Major-Watties Sweetheart gelding Major Watson raced by Rob Martin was to give Julie Douglas another trainers bonus after winning the Become A VHRC Member Today Pace over 1650 metres. With youthful Maryborough junior Luke Dunne claiming a concession, Major Watson led out from the pole before being eased to allow Bide Our Time (gate five) to assume control within a lap. Enjoying a cosy trip, Major Watson finished hard along the sprint lane to register a 2.5 metre victory (his 10th) in a slick 1-55.7 over the leader. Honest 9Y0 Zuberi ran home out wide from well back for third a head away.
Rob Martin has had a long association with the Douglas stable.
Forest Force, a Rocknroll Hanover-Nolarella gelding snared the APG – Bringing The Sales & Races To Owners Pace over 1650 metres much to the delight of Rochester owners Stephen Mark (trainer) and partner Judy Devlin giving them the bonus.
Driven by Mark Pitt, Forest Force began brilliantly from gate five to lead and never looked like being beaten, scoring by 2.8 metres in advance of Reddy Major which trailed from the pole. Raging hot favourite Imperials Dream (one/one) was third 1.5 metres back after easing three wide in the last lap. The mile rate 1-57.3.
Stephen Mark is a member of a long time Goulburn Valley trotting dynasty.
SUMMARY
OWNERS BONUS
Speedy Lover
Heathbern Bruce
Major Watson
Forest Force


TRAINERS BONUS
Speedy Lover
Heathbern Bruce
Major Watson