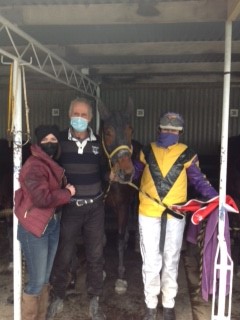 Tue 20 Jul 2021, 10:06 am
Maryborough hosted the latest VHRC Bonus races on Monday July 19 with a nine event program taking place. The VHRC thank a large number of members taking advantage of the scheme throughout the afternoon and many reaped the rewards. VHRC member Len Baker looks at the latest winners.
MONDAY JULY 19 – MARYBOROUGH
Parwan trainer Jodi Quinlan long established as being one of Victoria's leaders in the fairer sex category was successful in the APG – Bringing The Sales & Races To Owners 3Y0 Maiden Pace over 1690 metres with Mach Three-Miss Astronomical filly Illawong Awesome much to the delight of owners Jodi Quinlan, Taylor Ford and Scott Dunbar who received the owners bonus. Driven by Taylor, Illawong Awesome led throughout from gate three, accounting for Miss Hattie along the sprint lane after trailing by a half head in an exciting finish. Asante Sana was third 6.7 metres back after following the pair. The mile rate 1-58.4.

Jodi also received the trainers bonus making it a most profitable race.

The APG – Industry's Not For Profit Sales Co. Pace over 2190 metres saw Strathfieldsaye trainer Julie Douglas and husband driver Glenn victorious with 6Y0 Mr Feelgood-Shirleys Fancy gelding Junior Feelgood who brought up two wins in the space of four days after winning at Melton the previous Friday. Raced by Strathfieldsaye resident Peter Cole who is also a licensed trainer having won five races with Major Jodi earlier this season, Junior Feelgood was quickly away from inside the second line to settle four back in the moving line as Forest Force led from gate two. Trailing Rocks Can Roll (one/one) forward three wide in the last lap, Junior Feelgood (four wide on straightening) ran home best to prevail by 2.8 metres in a rate of 2-01.3 over Rocks Can Roll, with Forest Force holding down third a half neck back.

Both Peter Cole and Julie Douglas were recipients of the owner and trainer bonus.

Kilmore breeder/owner/trainer Billy Milner's Majestic Son-Auravale 6Y0 gelding Dellsun although not eligible for the owners bonus, but registered for the trainer bonus landed the VHRC – APG – APTS Bonus Race Series Trotters Handicap over 2190 metres. With Chris Alford in the sulky, Dellsun was given the run of the race from the pole trailing Tiber which began fast to lead from barrier three. Using the sprint lane, it took Dellsun all the way up the straight to gain a last stride head decision over Tiber, with Chinski (one/three – three wide last lap) to be outside the leader on the home turn third 1-7 metres away. The mile rate a leisurely 2-06.1.
Bill Milner a son of the late Laurie Milner who had a handy horse in the Showgrounds/Moonee Valley era by the name of Sallys Renlim and has prepared 90 winners (mostly trotters) from 1780 starters since taking out a licence.

Owners Leigh (Leroy) Graham, Mitch (Moo) Sidebottom, Dale (Oddy) Oddy and Liam (Dougie) Crapper received the bonus following the victory of former trotter Self Exclusion in the 1690 metre Join The VHRC 'The Heart Of Harness Racing' Pace. A 4Y0 gelded son of Orlando Vici and Sun Goddess trained by Leigh Graham and driven by James Herbertson was trapped three wide from gate five as Lenny Tee sped out from gate two to lead. Going forward to cross at the bell, Self Assured treated his rivals with contempt, bounding away on turning to score by 8.2 metres from Sundancer Rainbow which flashed home late off a three wide trail last lap from the tail returning a mile rate of 1-58.4. First starter Oh So Easy (three back the markers) used the sprint lane for third 3.6 metres back.

Leigh who works for the Harness Racing Training Centre Bendigo comes from a well known Central Victorian trotting generation also snared the trainers bonus.

Daylesford trainer Anne-Maree Conroy stepped out four starters in the APG & APTS Offers $2.2M In Prizemoney Trotters Handicap over 2190 metres and captured the quinella with Aldebaran Belle driven by brother Glenn defeating Anne-Maree aboard Shield Maiden with all four eligible for the bonus. Raced by Duncan McPherson, Colin Beveridge, Mary-Lou Raybold, Pat Conroy, Sam Justin and Leanne Taylor, Aldebaran Belle a beautiful Kiwi bred 4Y0 daughter of Dream Vacation and Chiola Belle angled away from an inside second line draw to possie one/one on the back of Hes Themightyspin to enjoy the much sought after prime spot as Mystic Chip (barrier three) crossed Jack Of The Green (barrier four) after another Anne-Maree trained polemarker Querencia (back for bundles) led and broke on the first turn. Easing three wide approaching the final bend, Aldebaran Belle ran home best to register a soft three metre margin over Shield Maiden (three back the markers – one/one home straight) returning a mile rate of 2-05.3. Old timer Jaden Gil (one/two) flashed late for third 4.7 metres away.

Anne-Maree is a great supporter of the bonus scheme and was also rewarded with the trainers bonus.

Extremely talented pacing bred 4Y0 Sportswriter-Our Queen Of Passion mare Queen Of Crime bred and raced by Tony and Pam Conignio greeted the judge in the Check Out The VHRC Website www.vhrc.org.au Trotters Mobile over 2190 metres. Trained at Terang by Mattie Craven and driven by Swedish partner Sofia Arvidsson, Queen Of Crime led from gate four and always looked to be travelling comfortably. Kicking clear on turning, Queen Of Crime shortened stride dramatically in the shadows of the post to just last by a half head from Saint Calder which jumped out of the ground from the tail. Fields Of Kyvalley (one/one – three wide last lap) was third 3.7 metres away. The mile rate 2-01.6.

Tony and Pam have raced many horses over the years in various stables with success and will enjoy the bonus, while Mattie received the trainers bonus.

Four year old Heston Blue Chip-El Jays Belle gelding Bring The Flave made amends for a most unlucky second at Melton at his previous outing when victorious in the 2190 metre Become A VHRC Member Today Vicbred Pace. Unfortunately the large syndication of owners were not eligible for the bonus, however Monegeetta trainer David Miles who was involved in a nasty fall in race one having to be taken to hospital was. Driven by the stable's Jayden Barker Bring The Flave led from gate three before being restrained to take a trail on stablemate Redfox Raider. Inconvenienced prior to the home turn when the leader gave ground swiftly, Bring The Flave once in the clear angled to be one/one on turning and when eased three wide in the straight, ran home best (although greenly) to gain the day from Clarenden Envoy (one/two) off a three wide trail last lap in a rate of 1-59.4. Gilty By The Beach (one/one – three wide home turn) was third. The margins 4.1 by 2.3 metres.

The APG – Serving The Industry For 32 Years Pace over 1690 metres went the way of 4Y0 Betterthancheddar-Feel The Magic mare Roquefort Cheese for the Shelbourne combination of Kate Hargreaves (trainer) and Alex Ashwood (driver) in a mile rate of 2-00.1. Raced by Stephen & Trent Metcraft and Michael Sultana, Roquefort Cheese after racing roughly from gate six as the start was effected, was sent forward when balanced to assume control and rated well, ran out a 2.1 metre victor over Safe Jewels (three wide trail last lap from the tail) to make the final turn four wide, with Whata Glimpse (one/four – three wide last lap) third 1.8 metres away.
There was no trainer bonus applicable.