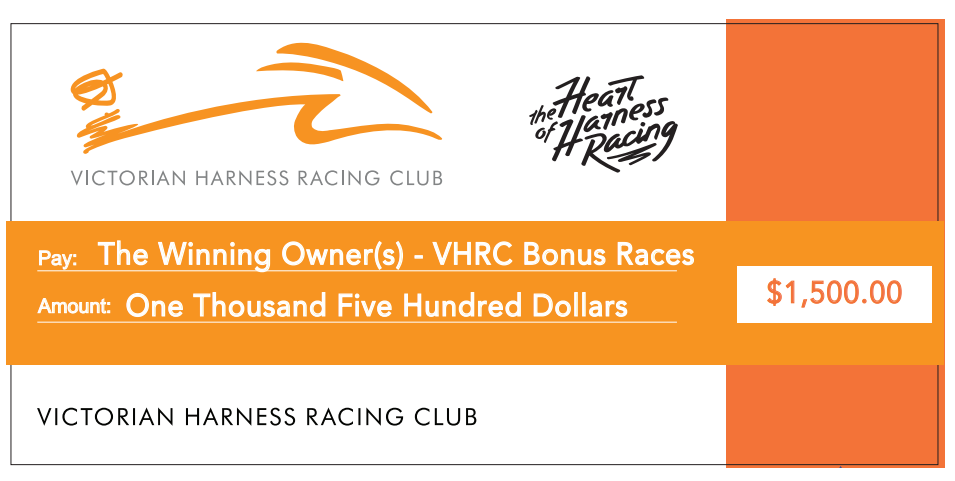 Thu 7 Oct 2021, 11:16 am
Geelong was the venue for the VHRC Bonus Meeting held on Wednesday October 6 and again many members received their $1500 bonus during the evening after their horse was successful.
If you have not joined the VHRC as yet and would like to - give Kelly Ternouth a call (0408 570197) or e-mail contact@vhrc.org.au
VHRC member Len Baker looks at the latest winners.
WEDNESDAY OCTOBER 6 - GEELONG
A host of owners namely D D Aitken, Kelly A Stuart-Mitchell, G J Clark, M Mongomery, T J Downey, Moemoea Racing, Bee Haa Racing, I Foster and L Keen would have been delighted when their ever reliable Yankee Spider-Eagles Image gelding Six Nations chalked up his second victory in eight outings by taking the VHRC / Aldebaran Park Benefiting Our Members 3Y0 Trotters Mobile over 2100 metres. Driven by Jason Lee, Six Nations led throughout from gate four to easily account for first starter Marengo Bay (gate three) three back along the markers - one/one last lap – three wide home turn after being slow to begin from gate three. Parisian Artiste (three back the markers mid-race) after galloping away was third a head away. The mile rate 2-04.4.
Part-owner/trainer Kelly Stuart Mitchell who also received the trainers bonus is a step sister of top New Zealand reinsman Todd Mitchell.


The APG – 92% Clearance Rate In 2021 3Y0 Pace over 2100 saw Four Starzzz Shark-Paintball filly Holi Starzzz successful in a rate of 1-58.7. Bred and raced by Goulburn Valley Dairy farmers Greg & Jenny Pell, Holi Starzzz trained at Monegeetta by David Miles and driven by James Herbertson was eased from outside the front line to settle at the rear as No Win No Worries went forward four wide from gate six to lead with around 1609 metres to run in the 2100 metre race. Commencing a three wide forward move in the back straight on the final occasion to join No Win No Worries on the final bend, Holi Starzzz was too strong at the finish, scoring by a half neck in 1-58.7. Illawong Awesome (gate five) after crossing Regal Reggae (gate two) shortly after the start then handing over to Holi Starzz held down third 1.8 metres back. The Pell family have been involved with harness horses for many years with Greg's father Les and uncle Gordon enjoying plenty of success.
David Miles having only just returned from injury received the trainers bonus.


Melton trainer Ken Tippet received the trainers bonus after combining with James Herbertson aboard 6Y0 Four Starzzz Shark-Gabrielle Bromac gelding Aimforthestarzzz to capture the APG's $1.5M 2Y0 Finals Night for 2022 Graduates Pace over 1609 metres. Beginning with a wing on every foot from gate four to lead, Aimforthestarzzz was rated to perfection, just lasting to defeat River Patrol (one/one) by a nose in a thrilling finish. Fuller Cee Ess (three wide last lap from the tail) was third a head away. The mile rate 1-57.5.
Unfortunately for connections Aimforthestarzz was not eligible for the owners bonus.


Five year old Rock N Roll Heaven-Nighoffire gelding Mynameisjeff bred and raced by David and Terry Lewis along with Wayne Krause was an easy winner of the Become A VHRC Member Today Pace over 1609 metres giving then their second owner bonus. Trained at Terang by Mattie Craven, Mynameisjeff driven by partner Sophia Arvidsson led throughout and was never in any danger, greeting the judge 5.5 metres in advance of The Chancer (one/one last lap) from the rear, with Jacks Command third 1.5 metres back after following the winner.
Mattie Craven received the trainer bonus as well.


Astute Euroa part-owner/trainer David Jack although not eligible for the owners bonus, received the trainers prize after winning the VHRC / Aldebaran Park Benefiting Our Members Trotters Handicap over 2100 metres with home bred 5Y0 Majestic Son-Escandolo 5Y0 gelding Moreton Bay. First up for almost 18 months, Moreton Bay led throughout from barrier three to record an easy 14.7 metre margin in advance of outsider Fling It Rainbow which trailed from the pole. Claudy An Gus (10m) was third 6.2 metres back after racing exposed before dropping to three back the markers. The mile rate 2-04.3.
It was a great training feat by David a member of the well known Riverina based family headed by late father Robbie a legend of the district which include brother Russell to have the horse ready after such a long time off the scene.
David was based at Lavington in the Albury area for many years before relocating to his magnificent property in Euroa.


A host of owners - HRV Board member Peter Watkinson along with Peter Hornsby, Debbie Quinlan and F Van Leeuwen, A Kilgour, C G V Ainsworth, THOB Group and the Doutta Galla Group would have been jubilant when their Captain Treacherous-Sahara Sunrise filly Sahara Storm was successful in the 2100 metre APG – Industry Owned & Not For Profit Vicbred Pace giving them the bonus to add to the first prize cheque. Trained at Drouin by Gary and Deb Quinlan, Sahara Storm driven by Chris Alford was restrained from outside the front line to settle poised one/one as the early favourite Tay Tay led from the pole. Easing three wide on the final bend, Sahara Storm scored well by 4.7 metres over the leader in a mile rate of 1-58.7. Red Fourteen after racing exposed held on gamely for third 8 metres away.
Many involved in the ownership are long time clients of the Quinlan stable.
Gary and Deb were recipients of the trainers bonus.

SUMMARY
WINNING OWNER BONUS
Six Nations
Holi Starzzz
Mynameisjeff
Sahara Storm
TRAINER BONUS
Six Nations
Holi Starzzz
Aimforthestarzzz
Mynameisjeff
Moreton Bay
Sahara Storm