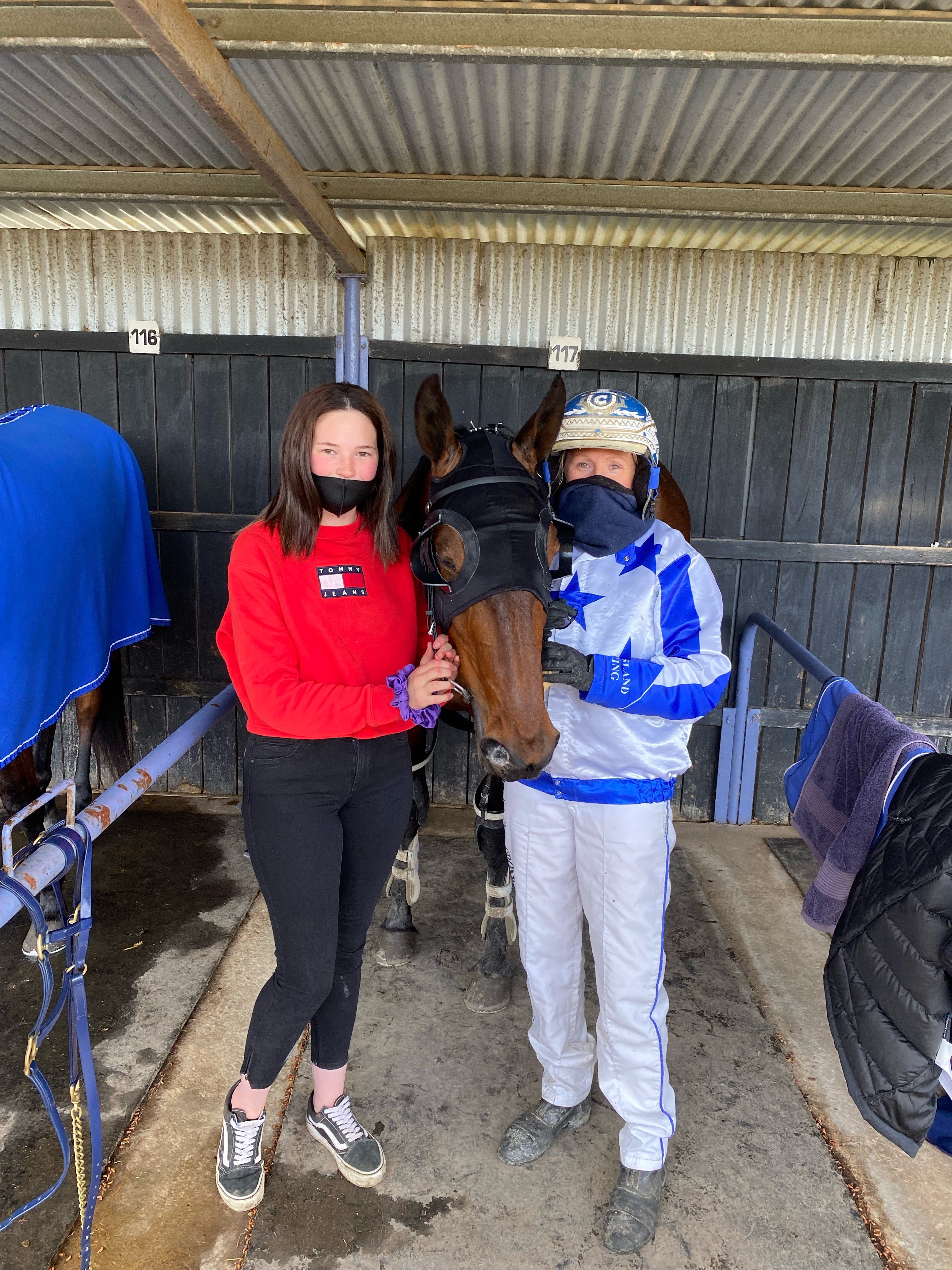 Mon 20 Sep 2021, 10:21 am
Maryborough Monday September 20 was the venue for the most recent VHRC Bonus meeting when many of our owner/trainer members were victorious throughout the afternoon and reaping the rewards for being so.
If you have not joined as yet and would like to - give Kelly Ternouth a call (0408 570197) or e-mail contact@vhrc.org.au
VHRC member Len Baker looks at the latest winners.
MONDAY SEPTEMBER 21 – MARYBOROUGH
Horsham owner/trainer/driver Aaron Dunn received all the spoils following the victory of Betters Delight-Lughnasadh filly Festive Azz in the VHRC / Aldebaran Park Benefiting Our Members 3Y0 Maiden Trotters Mobile over 2190 metres in a mile rate of 2-04.5.Given plenty of time to balance from gate five, Festive Azz settled nearer to last than first three back in the moving line as Walkabout Cascade flew away from outside the front line to lead before surrendering to Unspoken Love (gate six). Although very wide on the final bend, Festive Azz ran home stylishly to gain the day by an easy 8 metre margin over Walkabout Cascade which galloped after easing around runners in the straight before getting going again. Aldebaran Lovisa used the sprint lane from three back the markers for third 1.2 metres back.
Five year old Angus Hall-All Finesse gelding Claudy An Gus raced by the Catcha Racing Group managed by Stephen Harris broke through for an overdue victory in the VHRC / Aldebaran Park Benefiting Our Members Trotters Mobile (1st Division) over 2190 metres. Trained at Melton by Kelly Stuart-Mitchell, Claudy An Gus driven by Glen Craven settled one/one after starting inside the second line after Majestic Jewel led from gate four. Left in the open prior to the bell when Red Rustler exposed raced past the leader, Claudy An Gus cruised to the front on straightening to register a 3.9 metre margin in advance of Majestic Acheiver which flashed late in-between runner from three back the markers, with Red Rustler holding down third. The mile rate 2-06.6. Kelly would have been elated to receive the trainers bonus.
The VHRC / Aldebaran Park Benefiting Our Members Trotters Mobile (2nd Division) went the way of 4Y0 Danny Bouchea-Rockin Wilma gelding Roi Du Soleil bred and raced by Sunbury's Livingstone family in a rate of 2-04.3. Trained by Justin Livingstone and driven by Chris Lang, Roi Du Soleil began brilliantly from gate five to lead easily and allowed to bowl, ran his rivals ragged to greet the judge 24.5 metres in advance of Allwatfunjingles which rattled home after being held up four back the markers. Aldebaran Stevie came from the tail for third 2.6 metres away.
The 1690 metre APG's $3M Race Series for 2022 Graduates Pace saw cleverly named 3Y0 Western Terror-Im Wrongly Accused gelding Kimble successful for owners/breeders Christopher & Jeanette O'Connor. Trained and driven by Terang's Matthew Craven, Kimble was beaten for speed from the pole by Okinawa Beach next door which showed great acceleration as the start was effected before receiving the run of the race. The race was to change in the last lap when Okinawa Beach was crossed by Aussiepride which had raced exposed pushing Kimble back a spot. Using the sprint lane on turning, Kimble sprinted like a gazelle to record a soft 4 metre margin over Aussiepride which gave a sight, with Okinawa Beach holding down third 4 metres back. The mile rate 1-56.5. Mattie also snared the trainers bonus.
Matthew made it a stable double when Sportswriter-Show Me Amber colt raced by Pam Milne saluted the judge in the 1690 metre APG – 92.6% Clearance Rate in 2021 3Y0 Pace, returning a mile rate of 1-56.1. Starting from the extreme draw, Show Me Amber settled three back in the moving line after Im Eugene began with a rush to lead from gate five. One/one approaching the final bend, October Reign angling three wide finished best to prevail by a head in a three way finish from Captain Confetti (four back the markers - one/two last lap) four wide in straight and Master Remi which had raced exposed from gate three. Mattie received his second trainers bonus for the day making it a profitable afternoon.
Consistent Heston Blue Chip-Chiquita Bromac filly Cheyella bred and raced by VM (Verna) El-Khishin, was a strong winner of the APG – Australasia's Richest & Best Race Series over 2190 metres defeating her older rivals and chalking up her 4th success in 18 outings. Trained and driven by Byrneside based Lara Crossland, Cheyella was driven hard from gate four to head of polemarker Ghost Of Time at the start, then had to defy a strong challenge from Fightnfury (gate two) which had also made a claim for the lead. Kept honest mid-race as both Pride Lands and Notnegotiable went forward, Cheyella to her credit kicked clear on turning (final quarter (28.7) score by 10.3 metres in a rate of 1-59.2 from Notnegotiable and Fightnfury who's both runs were excellent. Lara also received the trainer bonus making it a profitable race for her.
Very much in-form Western Terror-Blitzsuzy colt Blitzern bred and raced by long time harness devotee John Montasano and partners brought up three wins in succession and six overall by taking the Become A VHRC Member Today Pace over 2190 metres. Trained at Cardigan by Allan McDonough, Blitzern a prohibitive long odds-on favourite driven by son Bailey settled three back in the moving lane after starting from the extreme draw and after going forward mid-race to park outside the leader Vapar Rocks, surged clear prior to the home turn. Given full rein on straightening, Blitzern raced away to record an effortless 13.1 metre margin over Major Mal (three back the markers – breezing – three back the markers) which used the sprint lane in a solid effort. Hair Razor (one/two at bell – three wide home turn) was third 3.3 metres back. The mile rate 1-58.
The Don't Miss Out On The VHRC Bonuses Pace over 1690 metres saw much travelled 7Y0 Mr Feelgood-Calleua gelding Tactile Sensation win his second bonus race much to the delight of a large number of owners headed by Aaron Bain Racing Pty Ltd and Summit Bloodstock Syndications. Trained and driven by Junortoun based Alex Ashwood, Tactle Sensation began with a rush from gate four to head off polemarker El Banco, running his rivals off their feet to register a 6.8 metre victory ahead of The Boost (three wide last lap) from three back in the running line. Sundancer Rainbow was third five metres back after following the runner up throughout. The mile rate 1-58.3.
The 1690 metre APG's $1.5M 2Y0 Finals Night for 2022 Graduates Pace was taken out by Allendale owner/trainer Adam Stephens' 5Y0 Union Guy-Alberts Belle gelding Wingate Guy in 1-57.9 giving him both the owners and trainers bonus. With Michael Stanley in the sulky, Wingate Guy possied handy three back in the moving line from gate two on the second row before going forward three wide in the last lap. Joining the leader Elenna on the final bend, Wingate Guy raced clear over the concluding stages to defeat Radiant Rose which followed him all the way. Beau Bronski which led out from gate five was third along the sprint lane after handing over to Elenna shortly after the start. The margins 5.6 by 2.3 metres in a mile rate of 1-57.9.