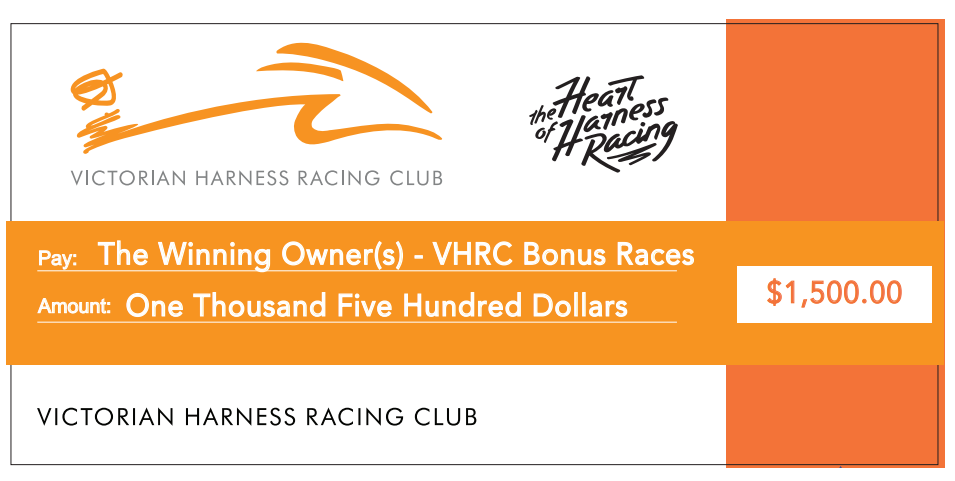 Mon 2 Aug 2021, 9:36 am
Tabcorp Park hosted a ten event card when the latest VHRC Bonus meeting took place on Saturday July 31.
The response was excellent from VHRC owners, trainers and members who are full of praise for taking advantage of the scheme and reaping the rewards for doing so.
If you have not joined as yet or would like to - give Kelly a call (0408 570197) or e-mail contact@vhrc.org.au
VHRC member Len Baker looks at the latest winners.
SATURDAY JULY 31 - TABCORP PARK MELTON
South of the river owners Tony and Pam Coniglio's smart pacing bred 4Y0 Sportswriter-Our Crime Of Passion mare Queen Of Crime made it three from three this time in (and four from fifteen) with a dominant victory from gate four in the APG-Serving The Industry 32 Years Trotters Mobile over 1720 metres. Trained and driven by Terang's Mattie Craven, Queen Of Crime ran along at her leisure with the result never in doubt, accounting for Naked Ambition which trailed from gate two by an easy 9.9 metres. Aldebaran Zeus made up a great deal of ground from the rear for third 6.4 metres back. The mile rate 1-56.7.
Tony and Pam have raced numerous horses with success over the years when trained by various trainers throughout the state.
Mattie was also registered to receive the trainers bonus.
Bendigo co-owners Robert Martin and Heather Anderson's impressive Art Major-Picobello gelding Interest Free was another to chalk up three wins in a row after leading throughout from gate three in the 1720 metre VHRC Website www.VHRC.org.au 2Y0 Pace. Trained by Heather's daughter Julie wife of Glenn Douglas, Interest Free driven by Jack Laugher who resides at the Anderson property in Strathfieldsaye (Bendigo) was never out of second gear, coasting to the wire 10.6 metres in advance of Solesseo Matuca (one/one last lap) returning a mile rate of 1-56. Im Princess Bella (gate two) after trailing the winner was third 4.4 metres back. Robert Martin also has shares in Van Niekerk, Ozzie Joy and Major Watson with the stable.
Julie's victory gave her the trainers bonus as did stablemate Vandanta, a 6Y0 Kiwi bred Christian Cullen-Heavenly Franco gelding who has returned from NSW in devastating form, adding the APG 32 Years Pace over 1720 metres to his recent tally. Driven by Ellen Torney, Vandanta starting solo on the second line moved forward three wide uncovered in the final circuit before dashing past his stablemate Ozzie Battler which led on turning to record a strong 3.5 metre margin over Idealsomemagic from mid-field, with Sahara Sirocco (three back the markers) running on late into third after being held up when angling away from the markers before the home turn. The mile rate 1-54.2.

The 2240 metre Join The VHRC Pace went the way of another former New Zealander in 5Y0 A Rocknroll Dance-Tara Delight gelding Tango Tara raced by Queenslander Norm Jenkin best known for his success with star trotters Tornado Valley and McLovin.
Trained at Long Forest by Andy Gath and driven by wife Kate, Tango Tara starting from gate two on the second line followed both Hugo Rocks and Soextra forward three wide to park outside the leader Arockatthepark racing for the bell. Applying pressure to the pacemaker on the home turn, Tango Tara raced clear in the straight, scoring by three metres in 1-58.8 from the fast finishing Huli Nien from the tail. Stingray Tara ran home nicely from mid-field for third 1.8 metres back. Andy also received the trainers bonus.

The APG & APTS Offers $2.2M In Prizemoney Trotters Mobile saw Duncan McPherson's Aldebaran Lodge Pty Ltd bred and raced 4Y0 Muscle Hill-Solar Powered mare Aldebaran Tess trained by Mattie Craven and driven by Sophia Arvidsson successful in a rate of 2-01.6. Going forward from gate five to take over the front running from Zigzagzoo, Aldebaran Tess defied all challengers to account for Zigzagzoo along the sprint lane by 4.2 metres, with Kyvalley Finn a tough third 6.4 metres back after racing uncovered with Mattie claiming his second bonus for the night.

TRAINERS BONUS
David Aiken one of the leading trainers in the state snared the trainers bonus when very much in-form Rock N Roll Heaven-Full Pleasure 7Y0 gelding Letsrockletsroll was successful in the APG-Bringing Sales & Races To Owners Pace over 1720 metres. Driven by son Josh, Letsrockletsroll enjoyed a cosy passage one/one after moving off the inside of the second line as Chase The Hat Trick (gate two) crossed La Puddie which flew away from gate six. Angling wide on turning, Letsrockletsroll finished full of running to record a 3.5 metre victory over a game Onesmartfella (gate three) which raced exposed, with Chase The Hat Trick third a half head away. The mile rate 1-54.3.
Myrniong's Jess Tubbs received the trainers bonus when former Kiwi Triple Eight greeted the judge in the Become A VHRC Member Today Free For All over 2240 metres. A gelded 6Y0 son of American Ideal and Slangevar driven by husband Greg was trapped wide from gate six before going forward to park outside the leader and favourite Bettor Be The Bomb (gate two). Travelling under a tight rein approaching the final bend, Triple Eight laid the law down to the pacemaker on turning with the pair drawing clear and Triple Eight prevailing by 4.1 metres. Torrid Saint (one/one – three wide home turn) ran his usual honest race for third 2.3 metres back. The mile rate 1-57.2. It's interesting to note that the "Pacing Priest" father Brian Glasheen is one of the part-owners.
Bolinda trainer Brent Lilley was a recipient of the trainers bonus when in-form Muscle Hill-Love Ya Doosie Kiwi bred 5Y0 entire Kyvalley Chief saluted the judge in the $30,000 (Group 2) VHRC/Aldebaran Park Benefiting Our Members Winter Trotters Cup Final over 2240 metres. Driven by Greg Sugars, Kyvalley Chief (gate four on the second line) settled four back in the moving line as Royal Charlotte crossed Imperial Whiz to lead. Following stablemate Robbie Royale ahead of him forward four wide into the home turn, Kyvalley Chief finished at a great rate to blouse Robbie Royale by a head, with Is That A Bid rattling home late from a mile back for third a half neck away. The mile rate 2-01.6. In winning Kyvalley Chief was another to bring up three wins in succession.
Andy Gath received another bonus after 5Y0 Roll With Joe-As It Is In Heaven gelding Balenciago driven by Kate led throughout in the APG-Not For Profit Sales Co Pace over 1720 metres, just lasting by a half head from Whats Stanley Got (one/one) and Wheres Seggy which trailed the winner finishing 2 metres away after easing to the outside on turning.. The mile rate 1-57.3.