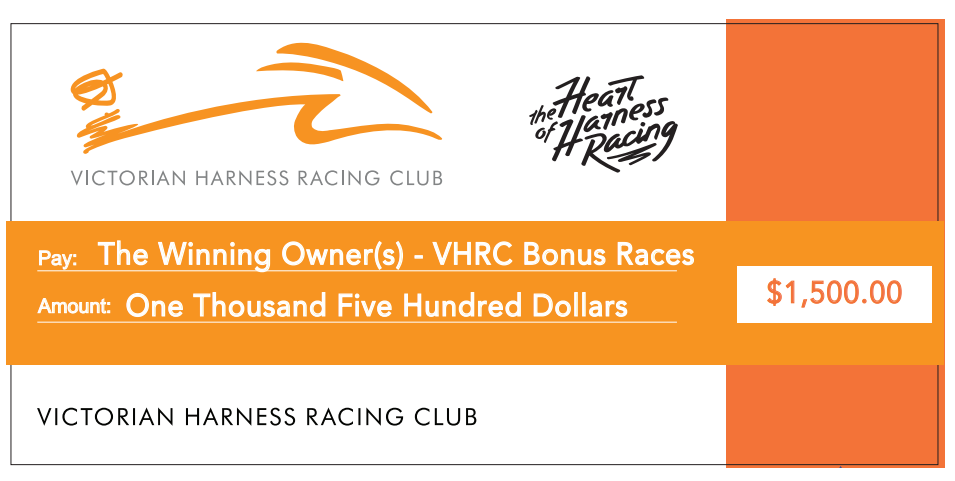 Sun 26 Sep 2021, 12:19 pm
A massive twelve event VHRC bonus race meeting was held in Sunraysia on Saturday September 25 with many members again receiving their $1500 bonus during the evening had their horse been successful.
The meeting was highlighted by a further three heats of the Hygain Northern Region Championship and a very good fast class event.
If you have not joined the VHRC as yet and would like to - give Kelly Ternouth a call (0408 570197) or e-mail contact@vhrc.org.au
VHRC member Len Baker looks at the latest winners.

SATURDAY SEPTEMBER 25 – MILDURA
The APG's $3M Race Series For 2022 Graduates 3Y0 Pace over 1790 metres opened the card with Somebeachsomewhere-Art Castle filly Playa Blanka victorious. Driven with aggression to lead from gate four, Playa Blanca trained and driven by Bendigo based Alex Ashwood travelled beautifully at the head of affairs and looked the winner a long way out, scoring by 4.8 metres in 1-59.2 from a game Regal Breeze (behind leader – one/one) which eased three wide on the final bend. Pennies Following after trailing the winner was third a nose back.
Bendigo based owner Neville Dewhirst a former Bendigo businessman now retired, has raced many handy horses over the years and loves his harness racing. He would have received great delight in receiving his owner bonus.
Alex Ashwood also received the trainers bonus.
It was the Julie Douglas show at Mildura with the Strathfieldsaye trainer winning a career highlight of four races on the program continuing what has been a tremendous super season for her. Speedy American Ideal-Smooth Laura filly Ozzie Playgirl was first to arrive in the Hygain Release / VHRC Northern Region Championship (2nd Round Heat 1) over 2190 metres. Bred and raced by Julie's parents Eric and Heather Anderson under the banner of Anderson Racing, Ozzie Playgirl driven by Ellen Tormey led with ease from the pole and after an easy time, just lasted by a neck from Clarenden Envoy (one/one) in a rate of 1-58.9. Kenya (three back the markers) was third a half head away.
The Hygain Microspeed / VHRC Northern Region Championship (Heat 2) was next on the agenda when Kiwi bred 5Y0 A Rocknroll Dance-Bad Peach gelding Duke Of Dundee racing in the name of E J & H M Anderson Nominees Pty Ltd was successful giving Ellen Tormey an early double. Leading out from the pole, Duke Of Dundee was tackled extremely hard by Tay Tay (gate two) which couldn't cross and galloped on the first turn dropping back to the tail. Slowing the tempo through the middle stages, Duke Of Dundee had plenty in hand at the finish, greeting the judge 9.7 metres in advance of Kolovos which trailed from inside the second line, with Come On Elvis third a half head away after trailing the pair. The rate 1-58.9.
Another ex-Kiwi – 4Y0 Sportswriter-Shard's Fantasy gelding Rick Reilly brought up the third leg when victorious in the 3rd Heat of the Hygain TrackTorque / VHRC Northern Region Championship which also gave Ellen Tormey three wins on the program. In a similar scenario, Rick Reilly raced by daughter Hayley led all of the way from gate three, coasting to the wire 10.7 metres ahead of Vanquish Stride (one/one) from inside the second line. Crime Boss which came across from gate six was third a half head away after following the pair. The mile rate 1-59.2.
Home bred three year old Petrock-Smooth Felicity gelding Ozzie Playboy racing for E J & H M Anderson Nominees Pty Ltd gave the stable a quartet by taking the APG – 2Y0 Finals Each Worth $750K In Prizemoney & Bonuses Pace over the sprint trip of 1790 metres with Ellen Tormey in the sulky. Safely retaining the front running from the pole, Ozzie Playboy was untroubled to lead throughout, accounting for the in-form Courts Bliss (gate 2) which trailed in by 6.8 metres in a mile rate of 1-58.6. Without Hesitation after following the pair from inside the second line was third 2.7 metres back.
It was an extremely profitable evening for trainer Julie Douglas who pocketed $500 for each of the wins making it so beneficial for owners to be a paid up member of the scheme.
*** The Anderson's need no introduction having provided numerous winners of provincial cups and other races over the years and almost won an Inter Dominion Grand Final when Franco Tiger was narrowly beaten by Westburn Grant in the 1992 (Melbourne) Inter Dominion at Moonee Valley.
The 2190 metre APG – Australasia's Richest & Best Race Series Pace saw Cardigan trainer Emma Stewart's 3Y0 Bettor's Delight-Bolinger Baby filly Platinum Sparkle raced by the TSR Racing Group treat her rivals with contempt in winning by 18.6 metres in a 2-01.8 rate. Driven by Ballarat based Connor Clarke, Platinum Sparkle led all of the way from gate three and had her rivals under pressure a long way out. National Draft (one/two) ran home nicely for second, with Abstract Art (one/one) third 1.1 metres back.
Emma also received the trainers bonus.
The Don't Miss Out On The VHRC Bonuses Pace (2nd Heat) over 2190 metres saw Adelaide based Aaron Bain Racing Pty Ltd and Summit Bloodstock Syndicate, along with Alex Ashwood and Nathan Flannery snare another bonus when 7Y0 Mr Feelgood-Calleija gelding Tactile Sensation easily greeted the judge in a mile rate of 2-00.5. Trained and driven by Alex Ashwood, Tactile Sensation as is usually the case, again led throughout from the pole to register a 11.5 metre margin from The Boost which trailed from inside the second line, with Good Onya (gate 2) which followed the pair for third 3.1 metres back.
Alex received his second bonus for the night.
Part-breeder and outright owner Carolyn Ward along with close associate Rob Auber who manages the horses she is involved with, made a brilliant decision to send 7Y0 Rocknroll Hanover-Gilt Bromac mare Gilty Hanover to Sunraysia as she has now won six races in the region, the latest being the Become A VHRC Member Today Pace over 1790 metres. Trained by youthful Lachlan Prothero who learnt his skill through the Pony Trots, Gilty Hanover driven by Neil McCallum pounced on the lead from gate three as the mobile pulled away and rated well, gave her rivals something to chase. Although getting a little tired over the concluding stages (last half 56.8 – quarter 26.2), Gilty Hanover held on the score by a half neck in a thrilling finish over Murranji Track which trailed giving the local district the quinella. Favourite Always Fast was a close up third a half head away after racing exposed. The mile rate 1-58.4.
Carolyn along with children Lori, Wade and Amber have great fun watching on Sky Channel the horses they have an interest in.
Lachlan would have been wrapped to receive his trainers bonus.
Five year old Jet Laag-Its Game On mare Fiftyshades Cresco first up for local trainer/driver Andrew Vozlic, snared the Be A Part Of APG's Greatest Ever Sales & Race Series Pace over 1780 metres in a mile rate of 2-01.5 giving him a most sought after trainers bonus. Beginning fast from gate four to lead before handing over to stablemate Ollies Molly (gate 2), Fiftyshades Cresco enjoyed a cosy passage. Angling away from the inside in the last lap to follow Jades Terror which had moved outside Ollies Molly, Fiftyshades Cresco after angling three wide on turning ran on best in a punishing finish to register a head margin over Jaydes Terror, with Ollies Molly holding down third 11.9 metres back.
The horse was not registered for the owner bonus.