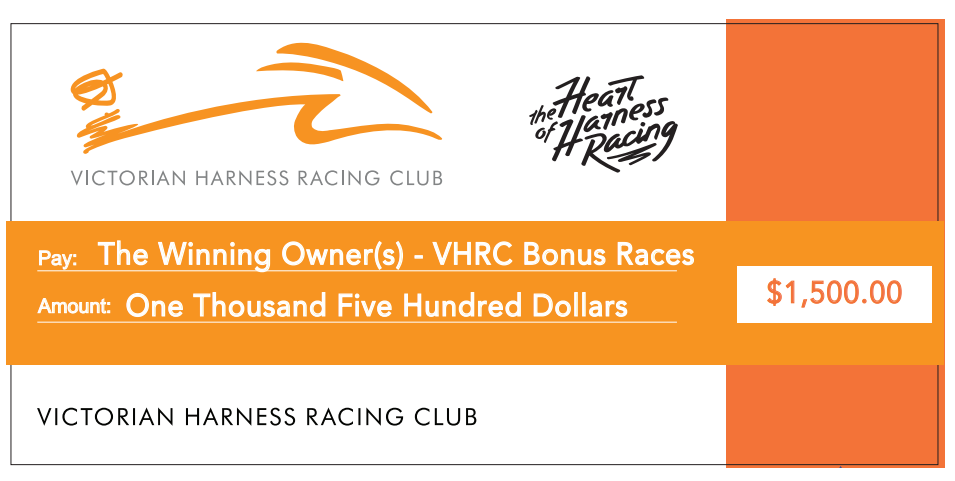 Mon 6 Sep 2021, 9:30 am
The most recent VHRC Bonus meeting was held at Shepparton on Sunday September 5 when many of our owner/trainer members were winners and recipients of the bonus scheme and reaping the rewards for being so.
If you have not joined as yet and would like to - give Kelly Ternouth a call (0408 570197) or e-mail contact@vhrc.org.au

VHRC member Len Baker looks at the latest winners.
SUNDAY SEPTEMBER 5 - SHEPPARTON
Bolinda owners Peter and Yvonne Males drew first blood when their 6Y0 Yeild Boko-Aldebaran Crumpet gelding Aldebaran Jaytee bred by Aldebaran Lodge Pty Ltd scored in the VHRC / Aldebaran Park Benefiting Our Members Trotters Handicap over 2190 metres. Driven by Zac Phillips, Aldebaran Jaytee trained by son Paul began safely from 10 metres and without hesitation was sent forward to park outside noted front runner Mystic Chip (barrier three) which had crossed stablemate Bellmac Bambi (barrier four). Dictating the terms to suit, Aldebaran Jaytee was too strong over the concluding stages for a game 20 metre equal backmarker Prettylilangel Angus (one/three - three wide solo last lap) to be beaten 2.4 metres, with Mystic Chip running yet another placing 4.1 metres back.
Peter and Yvonne have raced numerous horses with great success over the years and are dedicated to the sport.
Paul Males is no stranger to the winners list and received the trainer bonus to make the race a great result.


A host of Goulburn Valley residents (D J Earl, M D Lennie, N H Mackrell, N D Lennie, R J Kain, B J Patzel, D R Hazel and C L McDonald) were winners when 4Y0 Art Major-Miss Athens mare Miss Artemis trained at Kyabram by Mark Watson greeted the judge in the 2190 metre APG – Serving The Industry For 32 Years Pace. With Ellen Tormey in the sulky, Miss Artemis who had won at the track in April spent most of the race at the rear after being restrained from gate five as polemarker Argy Bargy led comfortably. Taken wide on turning, Miss Artemis produced a barnstorming finish to register a runaway 1.5 metre margin in a 2-01.4 mile rate over the pacemaker. Feisty Phoebe after an easy time one/one was third 2.8 metres back.

The Don't Miss Out On The VHRC Bonuses Pace over 2190 metres saw local Lemnos trainer Russell Jack victorious with Rock N Roll Heaven-Miss Elvira 5Y0 gelding Dealmaker in 1-59.1. Raced by Russ and the estate of his late father Robbie, a legend in the Riverina District of NSW, Dealmaker came out running from gate six to lead for reinsman Brad Chisholm and defied all challengers, reaching the wire by an easy 7.3 metres in advance of polemarker Goodlookin Rooster along the sprint lane from three back the marker. Secret Identity (one/one – three wide last lap) was third 1.6 metres back.

Glen Park (Ballarat) owner/breeder Wayne Ronan and family snared the Become A VHRC Member Today Pace over 2190 metres with 5Y0 Western Terror-Clean The Scene mare Scene Of Terrror. Driven a heady race by son Connor who never panicked at any stage after racing exposed from gate three, Scene Of Terror took care of the poleline leader Junior Warfare on turning to record a strong 5.9 metre margin over the favourite Cheddar Valley (one/one – three wide home turn), returning a mile rate of 2-02.4. Roslyn Gaye ran her usual honest race for third after following the runner up throughout.
Wayne Ronan an equine chiropractor has been involved with a number of handy horses for a long period of time, being involved with plenty of winners along the way.
Wayne was another to receive the trainer bonus and was full of praise for the VHRC on the instigation of such.

Former West Australian Tactile Sensation, a 7Y0 Mr Feelgood-Calleija gelding raced by S-A based Aaron Bain Racing Pty Ltd, Summit Bloodstock Syndicate, Alex Ashwood and N Flannery landed the 1690 metre VHRC – APG – APTS Bonus Race Series Pace. First up since June when unplaced at Gloucester Park, Tactile Sensation trained and driven by Alex Ashwood came into the race on terrific terms having won 8 races from 93 starts and after going forward from gate four to arrest the lead away from Miss Social Media (gate two) shortly after the start, treated his rivals with content, racing away to record a 15.1 metre victory from Miss Social Media, with Paddington Central (four wide home turn from last) third 4.2 metres back. The mile rate 1-59.1.
The owners who have raced several ex-W.A horses under the same conditions in Victoria would be delighted with the bonus as would Alex Ashwood as trainer.