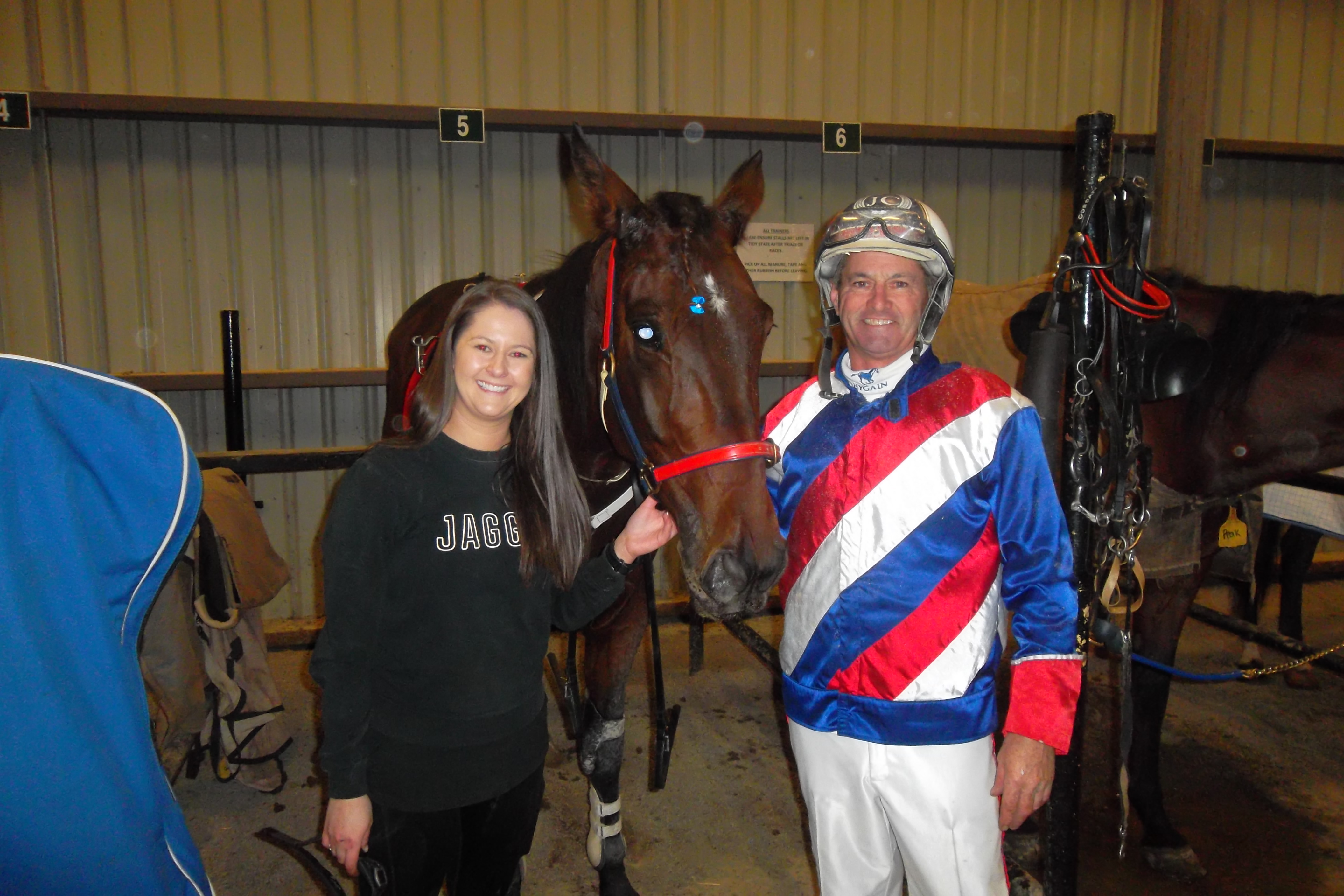 Tue 12 Apr 2022, 11:29 pm
A mammoth eleven event card was held at Shepparton on Tuesday April 12 giving many VHRC members and trainers the opportunity to receive a bonus should their runners be eligible.
You can enjoy these benefits by joining the club and if you have not done so as yet and would like to take advantage of the offers, give Kelly Ternouth a call (0408 570197) or e-mail contact@vhrc.org.au
Registered owners and trainers each receive a bonus whenever a horse wins at dedicated meetings plus you receive all the benefits the club has to offer.
VHRC member Len Baker looks at the latest winners.

TUESDAY APRIL 12 – SHEPPARTON
A massive plunge was landed in the opening race of the night – the VHRC Trainer Memberships Available until June 30 Maiden Pace over 1690 metres when 5Y0 Lincoln Royal-Whobro gelding Roman Arnie raced by Carlos Tortino and long time harness follower Alan Trotman scored. Trained and driven by Byrneside's Damian Wilson, Roman Arnie backed in from a morning quote in excess of $41.00 to run at $3.80 was off and running after starting from the extreme draw to park outside the long odds-on favourite Lookout first up from New Zealand which led easily after starting outside the front line. Applying plenty of pressure in the final circuit with neither running giving an inch, Roman Arnie gained a narrow margin on straightening before clearing away to register a very impressive 17.7 metre margin over Lookout, with Go George Go three metres away in third place after trailing the leader from gate two. The mile rate 1-56.9.
Alan Trotman in particular would have been thrilled to be back with a winner after being out of the game for a number of years.
In what was a great race for Damian Wilson, as well as receiving his winning trainers percentage, also snared the VHRC Trainers Bonus.
Damian has been in the sport for a long period of time spending many years with Bendigo trainer George Mance and in later years Tony Peacock.
Kurunjang trainer Maree Caldow and husband John were victorious in the VHRC / Aldebaran Park Benefiting Our Members Trotters Handicap over 2190 metres with 5Y0 Andover Hall-Solar Flash gelding Andover Sun. A former smart juvenile who has taken time to recapture his form thanks to stable vet Virginia Brosnan, Andover Hall bred and raced by Maree and partners Denis and Vali Hall and Alan & Christine Spalding who have been stable clients for many years began safely from 30 metres to spend most of the race four back in the moving line as Tetra led from barrier four. Setting off three wide solo in the last lap to join the leader approaching the final bend, Andover Hall in a punishing finish did best to reach the wire 1.1 metres in advance of Di Li (one/one) which switched down to the sprint lane on turning, with Tetra third 2.1 metres back. The mile rate 2-05.1.
Maree a stepdaughter of legendary trainer Dick Benger also received the VHRC Trainers Bonus.
The 2190 metre APG Offers $2.2M In Prizemoney Pace went the way of Strathfieldsaye trainer Julie Douglas' Grinfromeartoear-Lucys Penny 4Y0 gelding Marsden Heights in a mile rate of 2-01.9. Raced by staunch stable client Peter Cole, Marsden Heights taking a concession for Maryborough youngster Luke Dunne enjoyed a cosy passage from gate two trailing the speedy Ace Montana (gate three) which led. Coming away from the inside on turning, Marsden Heights finished best to prevail by 2.3 metres over most consistent mare Roslyn Gaye (three wide home turn) off a one/one trip, with Ace Montana 2.6 metres away third.
Julie Douglas also received the Trainers Bonus.
Kialla trainer Rodney Lakey landed the Join The VHRC Pace over 1690 metres with Bide Our Time, a 4Y0 gelded son of Bettors Delight and Bella Aurora bred by VHRC GM Rob Auber and raced by Andrew Stewart, Jamie Archer, John Sutherland and Michael Ryan. Driven by Nathan Jack, Bide Our Time (gate three) sprinted sharply from three back in the last lap to lead on the home turn and defy all challengers to record an easy 6.7 metre victory in 1-56.5 from Treacherous Rock (gate five) which followed him all the way. Castle Retreat (gate six) after extricating from three markers in the final circuit was third a half head away.
Bide Our Time was not eligible for the Trainers bonus.
Chiltern trainer Peter Romero combined with Mark Pitt aboard 7Y0 Artistic Fella-Majestic Smile gelding Imapest to capture the APG – Serving The Industry For 32 Years Pace over 1690 metres much to the delight of owners Tom and Wayne Lappin. A winner of eleven from 122 starts going into the race, Imapest starting from the extreme draw spent most of the race three wide trailing both Wonderforce (gate three) and White Star Village (gate seven). When Kevin Weidenbach let rip with White Star Village to lead on the final bend, Imapest was in hot pursuit and finished best to gain the day by 2.7 metres. Are You With Me after trailing the poleline leader from gate two and being checked in the last lap, used the sprint lane for third 4.5 metres back. The mile rate 1-59.9.
Imapest was not eligible for the Trainers Bonus.
SUMMARY
OWNERS BONUS
C Tortino & A Trotman – Roman Arnie
M Caldow, D & V Hall, A & C Spalding – Andover Sun
Peter Cole – Marsden Heights
A Stewart, J Archer, J Sutherland & M Ryan – Bide Our Time
T Lappin & W Lappin – Imapest
TRAINERS BONUS
Damian Wilson – Roman Arnie
Maree Caldow – Andover Sun
Julie Douglas – Marsden Heights