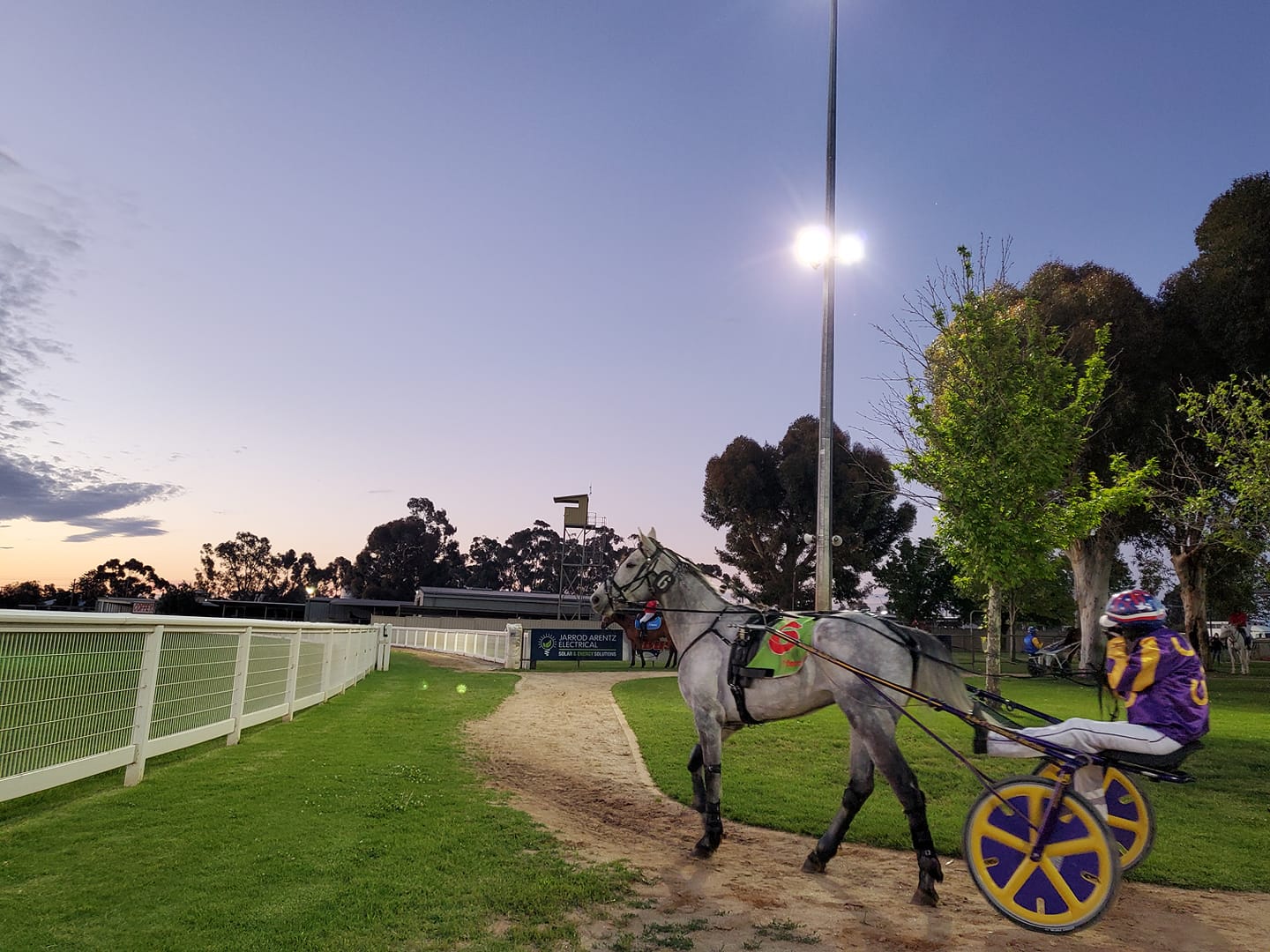 Mon 18 Oct 2021, 1:00 pm
Swan Hill Monday October 18 was the venue for the latest VHRC Bonus Meeting with close finishes and a neat eight event card.
If you have not joined the VHRC as yet and would like to take advantage of the offers - give Kelly Ternouth a call (0408 570197) or e-mail contact@vhrc.org.au
VHRC member Len Baker looks at the latest winners.
MONDAY OCTOBER 18 - SWAN HILL
The APG – Australasia's Richest & Best Race Series Battlers In The Bush Maiden Pace opened the night's proceedings and although not eligible for the owners bonus, four year old American Ideal-Way Mya Macray gelding Rocco Americana bred by long time VHRC member Ian Kitchin first up for what was a big night for the Julie Douglas (Strathfieldsaye) stable, was the easiest of winners giving her one of three trainers bonuses for the night. Driven by husband Glenn, Rocco Americana showed explosive speed from outside the front line to cross Colby Art (gate three) on the first turn and allowed to run, streeted his rivals to record a untouched 25.9 metre margin over Colby Art which ran yet another placing, with Hanover Jack (four back the markers) third 9.3 metres back in third place.
Julie Douglas who drove in her early days is the daughter of prolific owners Eric and Heather Anderson and is presently leading the state trainers premiership.
The second winner for the stable was Kiwi bred Sweet Lou-Abby Story gelding Captain Confetti in the 2240 metre Check Out The VHRC Website www.vhrc.org.au 3Y0 Pace giving Eric and Heather Anderson another race bonus. With Glenn in the sulky, Captain Confetti possied one/one momentarily from gate six before going forward to park outside the poleline leader Encosta Star. Striding to the front at the bell, Captain Confetti had to pull out all stops to defy the fast finishing Australiana (one/two- four wide home turn) by a half head in a thrilling finish. Kia Ora Beauty after spending most of the race exposed was a game third 1.1 metres back. The mile rate 1-59.1.
Julie pocketed another trainer bonus.
Three wins for the stable came up in the APG's $1.5M 2Y0 Finals Night For 2022 Graduates Pace over 1750 metres when 5Y0 Me Feelgood Saucyas gelding Cobalt Blues saluted the judge much to the delight of former club President Noel Watson an institution in the Swan Hill area, giving both him and Julie the VHRC Bonuses. Driven by Glenn, Cobalt Blues the only second row runner settled three back in the moving line before going forward racing for the bell to park in the open outside Awesome Ollie (gate three) before gaining cover from Beach Wreck for the final circuit. Joining Beach Wreck (one/three – three wide at bell – death seat last lap to lead on turning), Cobalt Blues was tenacious in defeating Crossroader (one/two last lap) by a head in 1-56.7. Beach Wreck was third 5 metres away in a blanket finish. The mile rate 1-56.7.
A Rocknroll Dance-Whata Impact colt Flash Jimmy was victorious in the Dont Miss Out On The VHRC Bonuses Pace over 1750 metres giving Horsham owner Stephen Blacker another bonus. Trained and driven by Horsham's Aaron Dunn, Flash Jimmy was restrained to the rear okf the field from outside the front line as polemarker No Neigh Philtra led before handing over to Maxy Wants To Play (gate three) at the bell. Gaining a three wide trail into the race in the final circuit on the back of first starter Jet Rock, Flash Jimmy was certainly that as the charged down the outside on straightening to register a 1.4 metre margin in a slick 1-55.4 from No Neigh Philtra after being extricated wide on turning from three back the markers. Maxy Wants To Play held down third 1.1 metres back.
Aaron Dunn banked another trainers bonus.
Bendigo owners Sean Rains, Sharon Threadwell and Emily Harris were bonus winners following the victory of Auckland Reactor-Eleventh Command 5Y0 mare Chooz Reactor in the 1750 metre Don't Miss Out On The VHRC Bonuses Pace. Trained in Bendigo by Scott Reins, Chooz Reactor with Heathcote teenager Sean O'Sullivan in the sulky began brilliantly from outside the front line to lead with Alpha Crucis (gate four) moving outside him. Travelling kindly until the last lap, Chooz Reactor had a tendency to shift away from the markers allowing Just A Philtra to move inside him before appearing to take a slender lead into the straight. But with Sean driving confidently Chooz Reactor was far from done came again to score by a soft 2.3 metres ahead of Just A Philtra which had his chance. Underplay ran home late from the tail for third a half neck back. The rate 1-57.9. Sean would have been delighted when crossing the line as it was his father Gordon Rothacker Medalist Jim's 75th birthday.
Scott Rains snared the trainers bonus making it a profitable race for him.
Charlton trainer Greg Norman's very honest 5Y0 Monkey Bones-Idle Fiori gelding Blue Coman raced by Adelaide's AB&T Cormack Racing was another bonus winner on the night when successful in the VHRC / Aldebaran Park Benefiting Our Members Trotters Handicap over 2240 metres. Coming off a sixth at Ballarat three nights earlier after racing exposed, Blue Coman (30 metres) with Kerryn Manning again in the sulky spent most of the race at the rear as Dream Over flew away from a solo front line draw (out wide) to lead easily. Angling three wide on turning, Blue Coman gathered in a death-seating Jazspur over the concluding stages to record a 3.4 metre victory, with Our Quick Cash third four metres away third after trailing the weakening leader which broke on the final bend. The mile rate 2-02.9.
Greg Norman for years one of South Australia's top trainers was also the recipient of the trainers bonus.
Speedy Rock N Roll Heaven-Jets Girl filly Tay Tay raced by a large ownership including trainer/driver Alex Ashwood landed the APG – Industry Owned & Not For Profit Pace over 1750 metres, but not before giving her supporters plenty of cause for alarm as she galloped wildly from the pole in the score up checking the second elect Codys Colt which was trailing from a solo second line draw. Fortunately for all concerned, a false start was called. At the second attempt Tay Tay began fast to lead and allowed to dictate, defied all challengers to greet the judge 1.3 metres in advance of Codys Colt which used the sprint lane after trailing. Prosecco Boy was third 10 metres back after racing exposed. The mile rate a fast 1-54.5.
The owners Garry Collinson, Phillip Farrugia, Alex Ashwood, Helen Aravanis, Terry Snowden and Daniel Elliott received the bonus as did Alex Ashwood for being the trainer.
Alex Ashwood has only recently entered into a training partnership with companion Tayla French.
The Become A VHRC Member Today Pace over 2240 metres saw Bendigo (Maiden Gully) trainer Maree Campbell combine with James Herbertson to land the major prize with Belittled, a 5Y0 gelded son of Western Terror and Ah Dinnae Ken. Settling five then four back the markers from gate four as the heavily supported Duke Of Dundee from the Douglas camp led, Belittled after trailing Wow You Can Dance forward three wide and angling wider on turning, rattled home at a great rate to prevail by a head from Wow You Can Dance in a 1-59 rate. Cheyella was third along the sprint lane a half neck back after following the leader.
Belittled is raced by the Campbell Family Trust in partnership with Rouge Doggz Group – with Maree Campbell receiving the VHRC trainer bonus.
SUMMARY
OWNER BONUS
Flash Jimmy
Chooz Reactor
Blue Coman
Tay Tay
Captain Confetti
Cobalt Blue
TRAINER BONUS
Julie Douglas (3)
Aaron Dunn
Scott Rains
Greg Norman
Alex Ashwood
Maree Campbell