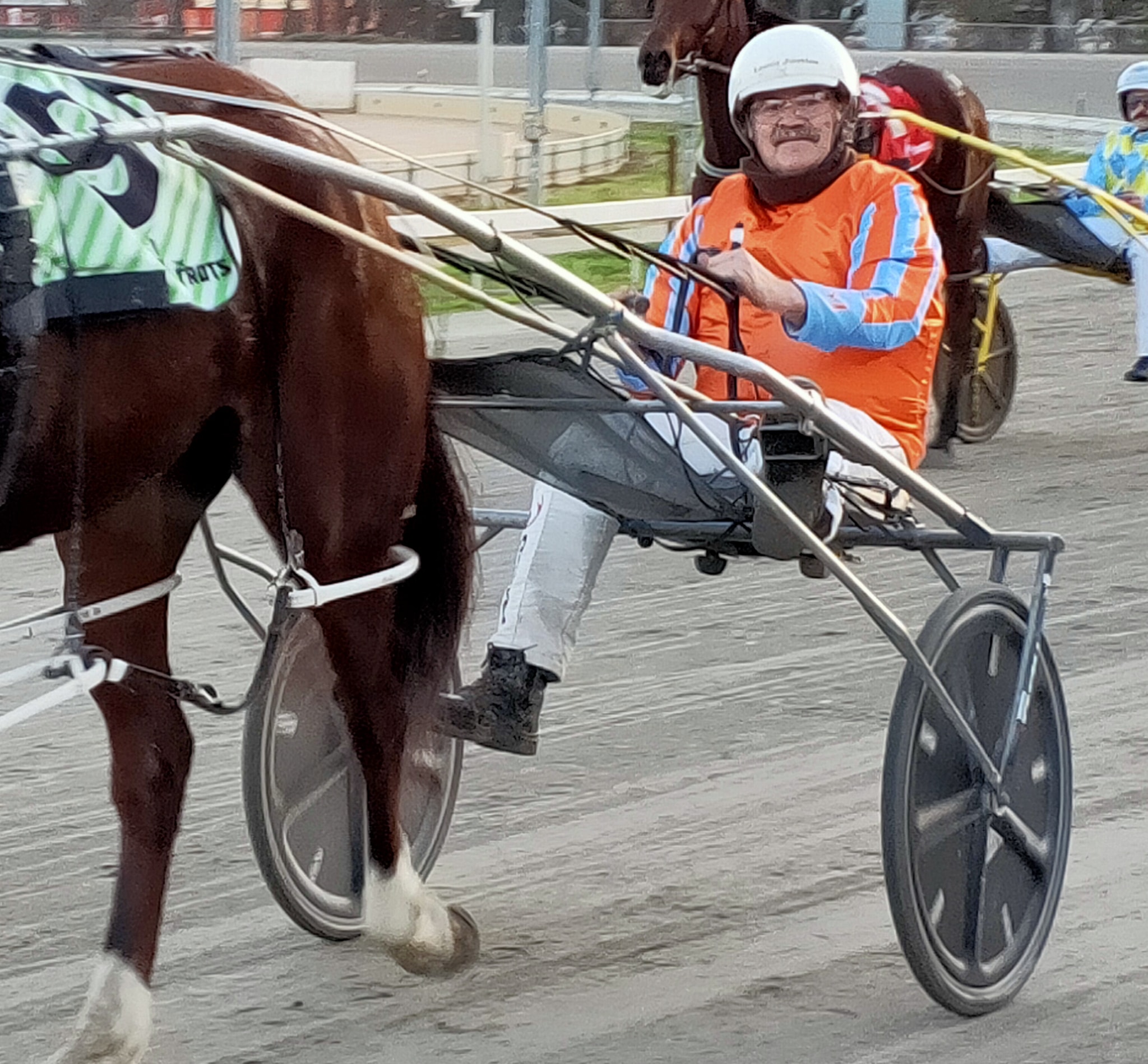 Tue 15 Jun 2021, 12:15 pm
Warragul played host to the VHRC bonus scheme on Monday June 14 and a special thanks to all of our members who supported the meeting. We were thrilled with the response and congratulations to the owners and trainers who reaped the benefits.

VHRC member Len Baker looks at the latest winners.

MONDAY JUNE 14 – WARRAGUL
Whilst there were eight winners on the program, the most delighted and excited person on course had to be Noble Park owner/trainer Alan Ratnasingham who was successful with Rock N Roll Heaven-Breenys Lady gelding Illawong Danny in the WLHC Life Members & VHRC / APG 3Y0 Maiden Pace over 1790 metres. Driven by Jack Laugher, Illawong Danny led throughout from the pole to record an easy 10.9 metres victory over Freedom Writer (one/two – three wide trail last lap) and Gozo Sunshine which ran on late from the tail to be 5 metres away in third place. The mile rate 1-58.9.
Alan was born in Sri Lanka and when his family re-located to Germany in 1993, became fascinated by the trots and attended meetings on a regular basis.
After shifting to Australia the interest was still there and in 1996 made application to enrol at the Bendigo Harness Racing Training Centre which proved unsuccessful through the number of students on the books, however John Randles suggested to him that the Warragul Training Centre may be opening the following year and he should make application to be accepted if he was still interested. He did not hesitate and after making contact with Des Hughes enrolled in 1967 learning all facets of the industry.
His love of the sport continued to grow and not before long, he was able to purchase a horse or two as his interest increased.
Alan keeps the horses at Southern Speedways, a onetime popular training centre in South Oakleigh who held regular trials on a weekly basis for many years attended by the "who's who" of the district including G.D (Dave) Wilson, Don Dove, Ted Demmler, Ron Armstrong and Geoff and Gary Daff.
To date Alan has prepared 10 winners from 538 starters with his admiration for the sport never diminishing.


The Ken Miller Memorial & VHRC / APG Pace over 1790 metres went the way of the Patrick Mifsud bred and raced 4Y0 Shadow Play-Dancinwithjodi mare Shania Tee. Trained by sister Rita Burnett in Kilmore and driven by daughter Monique (Duggan) who adopted catch me if you can tactics, Shania Tee (gate five) ran her rivals ragged after crossing Lady Olivias Folly (gate two) and although shortening stride rapidly approaching the home turn, kept on giving to score by a half head from Lady Olivias Folly in a thrilling finish. Stormtide (one/three) off a three wide trail last lap was third 3.1 metres away. The mile rate 1-58.8.
Rita received the trainer bonus.
The Mifsud family have involved in the sport since the Showgrounds days, with father Leli having a very good juvenile by the name of Son Of Jackavin. Rita herself also had an outstanding youngster of his time named Graff Von Esse which won 18 races.
The Mifsud's were also in the winners circle when ever reliable 8Y0 Yankee Paco-Zhari Belle gelding Daquiri produced a wonderful performance to land the Warragul Light Harness Club & VHRC / APG Trotters Handicap over 2210 metres after starting from a daunting back mark of 50 metres. Trained by young Thomas Parnell from Rita Mifsud stables for Julie and William Mifsud, Daquiri driven by Aussie Mifsud after a slick beginning settled five back in the moving line as Tennerson crossed Maori Mayhem shortly after the start. Trailing both Tam Oshanter (one/one) and Megeve (one/three) forward three wide in the last lap, Daquiri despite being four wide on the final bend dashed clear in the straight to gain the day by 3.2 metres from Tennerson in a mile rate of 2-02.7. Tam Oshanter held down third 2.2 metres away.
Thomas formerly from the North East of the state has been part of Rita's stable since a youngster and would have been overjoyed to receive the trainer bonus.
Local trainer Jennifer Lewis part of the Gippsland Harness Training Centre provided the centre with a winner and a bonus as they race 9Y0 Art Major-Mother Castle mare Mystic Castle who was victorious in the 2210 metre Gippsland Harness Racing Centre & VHRC / APG Pace. With Greg Sugars in the sulky, Mystic Castle pushed through from inside the second line to follow the polemarker Sonnys Amazing which had been crossed by Oceanique (gate four) receiving a cosy passage albeit three back the markers. Using the sprint lane, Mystic Castle in a thrilling finish sprouted wings in the shadows of the post to prevail by a head over Oceanique, with Sonnys Amazing a head away third after also using the sprint lane. The mile rate 2-03.3.


The Warragul Light Harness Club Tribute Raceday & VHRC / APG Pace over 2210 metres concluded a great afternoon with victory going to Melton trainer Charlie Mizzi's 4Y0 Tintin In America-Willow Rosenberg gelding Wotdidusaaay in a mile rate of 1-59.6 much to the delight of owners Charlie Mizzi and the Briggs family. Driven by regular reinsman Lance Justice, Wotdidusaaay began fast from gate two on the second line to trail Celestial Trekker which shadowed the leader Mona Mia (gate two) which had crossed polemaker Turquoise Stride. Going forward in the last lap to join the leader approaching the home turn, Wotdidusaay defied all challengers on straightening to score by 2.8 metres from Mona Mia which followed him all of the way, with Mia Culpa holding down third a metre back.
While the owners reaped the reward of the owners bonus, Charlie also captured the trainers bonus as well.