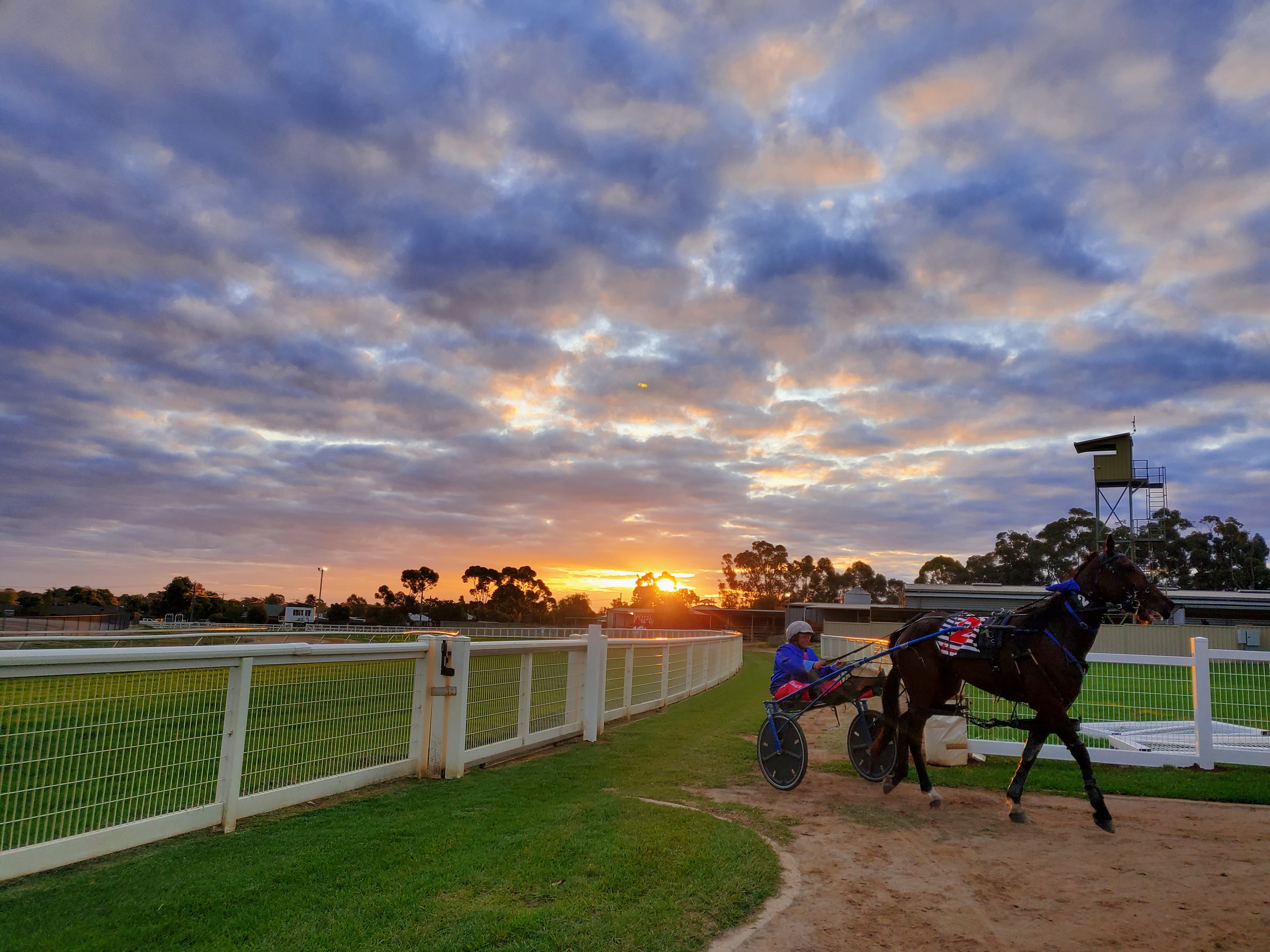 Wed 18 May 2022, 4:00 pm
Swan Hill was the venue for the latest VHRC Bonus meeting held on Tuesday May 17 and unfortunately a number of owners and trainers had neglected to register their horses for the bonus scheme.
You can enjoy these benefits by joining the club as many have and if you have not done so as yet and would like to take advantage of the offers, give Kelly Ternouth a call (0408 570197) or e-mail contact@vhrc.org.au
Registered owners and trainers each receive a bonus whenever a horse wins at dedicated meetings plus you receive all the benefits the club has to offer.
VHRC member Len Baker looks at the latest winners.


TUESDAY MAY 17 – SWAN HILL
Echuca trainer/driver Ros Rolfe was victorious with Always B Miki-Illawong Sister Styx gelding Dallas Miki in the VHRC – APG Bonus Series 3Y0 Maiden Pace over 1750 metres. Raced by Ros in partnership with husband Michael, Dallas Miki led out from gate two before being eased to allow Alex Ashwood aboard Sunshine Warrior (gate five) to take over entering the straight on the first occasion. Appearing to be struggling approaching the final bend, Dallas Miki rallied along the sprint lane to record a head margin over Direct Command (gate four) which raced exposed before taking a trail on Maas Betting Again (three wide from near last at the bell from the extreme draw to race exposed for the final circuit), then holding on for third a half head away. The mile rate 1-56.5.
Ros Rolfe who has prepared numerous winners over the years, the best being Franks Very Much, Jate Junior, Beach Time, Cisstar and Our Art Work also received the trainers bonus making it a terrific race for her.
Eugowra (NSW) owner/breeder Terry Jones received most of the spoils in the Become A VHRC Member Today Battlers In The Bush Maiden Pace over 1750 metres when 4Y0 Courage Under Fire-Reita Parker gelding Eric The Kicker making his race debut was a big winner. Trained at Strathfieldsaye by Julie Douglas and driven by the stable's Jack Laugher, the gelding is named due to having a desire to kick when first broken in and has never got out of the habit, being restrained from the extreme draw to spend most of the race at the rear as Strawberry Delight led from gate two. Still a long way back in the final circuit, Eric The Kicker must have made the final bend six wide before motoring home to prevail by a neck from polemarker Hanover Jack along the sprint lane after trailing the pacemaker which held down third a half head away in a thrilling finish. The mile rate 1-59.8. Terry Jones has been spending time at the Douglas stables on and off over the years and has had plenty of success with horses such as Our Sand Fly, Our Leo, Transformation, Half Crown Gap, Whatimeantosay and Rieta Parker.
Julie Douglas received the VHRC Trainers Bonus as well.

Consistent 4Y0 A Rocknroll Dance-Celebrity Ball mare Runaway Celebrity snared the VHRC Bonuses - Don't Miss Joining before 30 June Pace over 2240 metres. Trained at Cardigan by leading trainer Emma Stewart for a very large syndicate consisting of Bruce and Craig Cameron, Toby Harrison, John Harrison, Colin L Frick, JPS Racing, Nifty & Kirsty Rowe Group, John Penny, Nathan Woods and the Sturt Racing Group, Runaway Celebrity driven by Mark Pitt enjoyed a cosy passage from inside the second line trailing the poleline leader Don't Need An Excuse and when the sprint lane came into play, did best to score by half a neck over Chrissy Chic (one/two – three wide last lap), with Treacherous Rock a game third a neck back after racing uncovered from gate four. The mile rate 1-59.6. The Cameron boys hail from South Australia and have enjoyed plenty of success.
Emma Stewart was also eligible for the trainers bonus.
SUMMARY
OWNERS BONUS
R & M Rolfe
Terry Jones
B & C Cameron, T Harrison, J Harrison, C Frick, JPS Racing, Nifty & Kirsty Rowe Group, J Penny, N Woods and the Sturt Racing Group


TRAINERS BONUS
Ros Rolfe
Julie Douglas
Emma Stewart