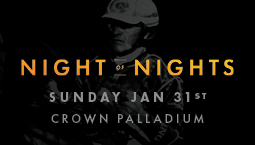 Mon 4 Jan 2021, 7:00 pm
This major event is being held at the Crown Palladium on Sunday, 31st January 2021 and promises to be a night to remember. A must attend night for every harness participant and follower to enjoy a huge night of celebration delivering hope, recognition, rememberance and enjoyment.
Master of Ceremonies Michael Felgate from RSN will host the night featuring the inaugural presentation of the Lang Medals honouring two icons of the harness racing industry Graeme and Gavin Lang, Del Re National Hunter Cup barrier draw, presentation of the Caduceus Legend award and live music entertainment by Crown Palladium's No 1 Cover band 'Chunky Jam'. It promises to be a fun and memorable evening!
Another major highlight will be the showing of an emotional video tribute made in honour of the late Gavin Lang with raw and unseen footage shared by his family. It's a tribute that the harness racing industry can be forever proud of when remembering one of the great legends of the harness racing industry.
Start time 6.30pm until 11.30pm. Ticket pricing $150 per person includes 3 course dinner, beer, wine and soft drinks.
Dress Code: Cocktail
Special Crown accomodation packages available:


To book contact: Rob Auber 0419 354 887