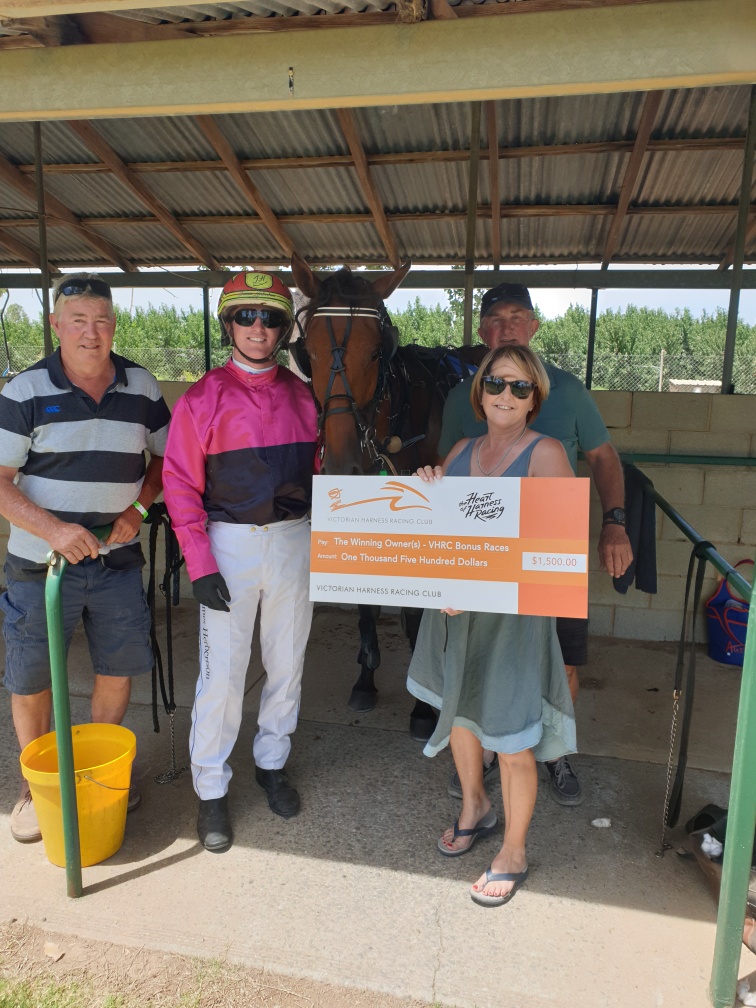 Sat 23 Jan 2021, 9:10 am
Congratulations to all VHRC members who have taken advantage of the opportunity to join the club and receive the benefits of the owners and trainers bonus scheme.
Many more paid up owners and trainers were delighted to have been able to reap the rewards as their horses greeted the judge in their respective races.
VHRC member Len Baker continues to look at the latest winners.

FRIDAY JANUARY 22 – COBRAM
Wangaratta (Oxley Flats) Blackshaw family - Bernie, Margaret and Paul were winners when 6Y0 Art Major-Life Savings gelding Saving Major Percy scored in the Order Your Yearling Sales Catelogue @ apgold,com.au Pace over 2170. Trained at Chiltern by Peter Romero after starting from gate two on the second line, Saving Major Percy with Chris Alford in the sulky received a cosy trip three back in the moving line as Lavington visitor Miss Pau flew away from outside the front line to lead.
Sent forward three wide solo in the final circuit, Saving Major Percy finished best on turning to record a 2.8 metre margin over The Last Chance which followed him home, with Have No Choice (four back the markers) flashing late for third 2 metres back. The mile rate 1-58.3.
Bernie Blackshaw has been a stalwart of the harness racing scene, breeding, owning and training horses for a long period of time – his best by far being Inter Dominion winner Smolda who's dam Under The Mattress holds a special place with the family.
He was a Wangaratta HRC committeeman for over 20 years and served as President for a ten year period.
Even though they have won numerous races, they were thrilled to have won the bonus.
Four year old Auckland Reactor-Just Look At Me mare Just A Philtra cracked it for her first success in 25 outings by taking the APG'S Online Guide's @apgold.com.au Maiden Pace over 2170 metres in a rate of 1-58.3. The wait well worthwhile as connections received their $1500 bonus and were thrilled to have done so. Bred and raced by Kyabram dairy farmer Philip Wade, wife Tracey and daughter Paige, Just A Philtra trained at Kyabram by Mick Blackmore was driven by James (Herbie) Herbertson and despite racing exposed from gate four, was much too strong over the concluding stages, recording a 11.1 metre victory from Our Art Christian (one/three) and Barwen Storm (three wide last lap from the tail) who threw away second spot after hanging in badly in the straight.
The Wade's breed and race their own horses (around three each year) carrying the Philtra moniker, the best to date being Philtra Phella (20 wins for almost $100,000 in stakes) and have been in the sport for over 20 years. They have also been involved with some of Fay McEwan's syndications.
Phil like many were very grateful to the VHRC for the implementation of the bonus scheme.
The large number of Junortoun trainer Gary Donaldson's syndicate members (Gary himself, B Hobbs, W Steinbormer, W McGuire, B Prentice, Pacers Bendigo 1 and Pacers Bendigo 2) would have been elated when honest 5Y0 Pet Rock-Halfa Falcon) gelding Rocks Arnt Pets greeted the judge in the Join The VHRC 'The Heart Of Harness Racing' Pace over 1670 metres. Driven by Leigh Sutton, Rocks Arnt Pets went forward three wide solo in the last lap from three back to join the long odds-on favourite Cheddar Made Beta on the final bend and outstayed him to register a 4.2 margin in 1-55.4. Causing Strife was third 4.1 metres away after trailing the winner home from near last. The mile rate a slick 1-55.4.
Gary is a son of Charlton's Matt Donaldson grew up in the sport and has held a trainer and drivers licence for ages. He also ran a highly successful video rental business throughout regional Victoria.
Gary loves nothing more than to go to the trots on a regular basis.
Shelboune based owner/trainer Luke Stapleton's 4Y0 Art Major-Shakeilah mare Keilah recorded her second victory in 19 outings when taking the Check Out The VHRC Website www.vhrc.org.au Pace over 1670 metres.
Keilah driven by Alex Ashwood starting from gate two on the second line was tough after going forward from three back in the moving line racing for the bell only to be trapped wide for the rest of the journey. Moving outside Feeling Energetic which had raced parked from the outset before taking care of the leader Our Triple Asset, Keilah dug deep in the straight to prevail by a head from Elenna (one/one) which gained a split halfway up the running, with Hanover Sunshine third 1.8 metres back after following the winner home. The mile rate 1-58.1.
Luke Stapleton is related to the well known Bungaree Frawley family being a nephew of Danny and Anne and grew up in the sport, holding a junior drivers licence and out driving his claim.
Based next door to Kate Hargreaves and Alex Ashwood's training complex which he uses to work the mare, Luke has two in work including a youngster which he has high expectations of going to the races with.
One of his biggest thrills was driving Grumpy Old Man for Grandfather Brian Frawley in the 1999 Ararat Pacing Cup, even though he finished unplaced behind Gay Echo.
The victory was a timely birthday present for Luke who celebrated his birthday the following day.
WINNING TRAINERS
PETER ROMERO – SAVING MAJOR PERCY
Peter is a regular at most Cobram, Wangaratta, Shepparton, Echuca and Bendigo meetings, whilst also crossing the border to race at tracks such as Albury and Wagga.
He has a good strike rate having won both the Wangaratta and Albury Cups with a lovely horse by the name of Wingara a few years back. He has recorded over 121 victory's in Victoria for stakes over $633,000.
MICK BLACKMORE – JUST A PHILTRA
Mick Blackmore a former barrier attendant at the gallops has enjoyed great success in the sport winning in excess of $1,600,000 in stakes.
His best being brilliant mare Claudy's Princess along with honest types Rhory Mchinsen and Claudy's Prince, plus a plethora of bread and butter types who were always around the money.
GARY DONALDSON – SEE ABOVE
LUKE STAPLETON – SEE ABOVE