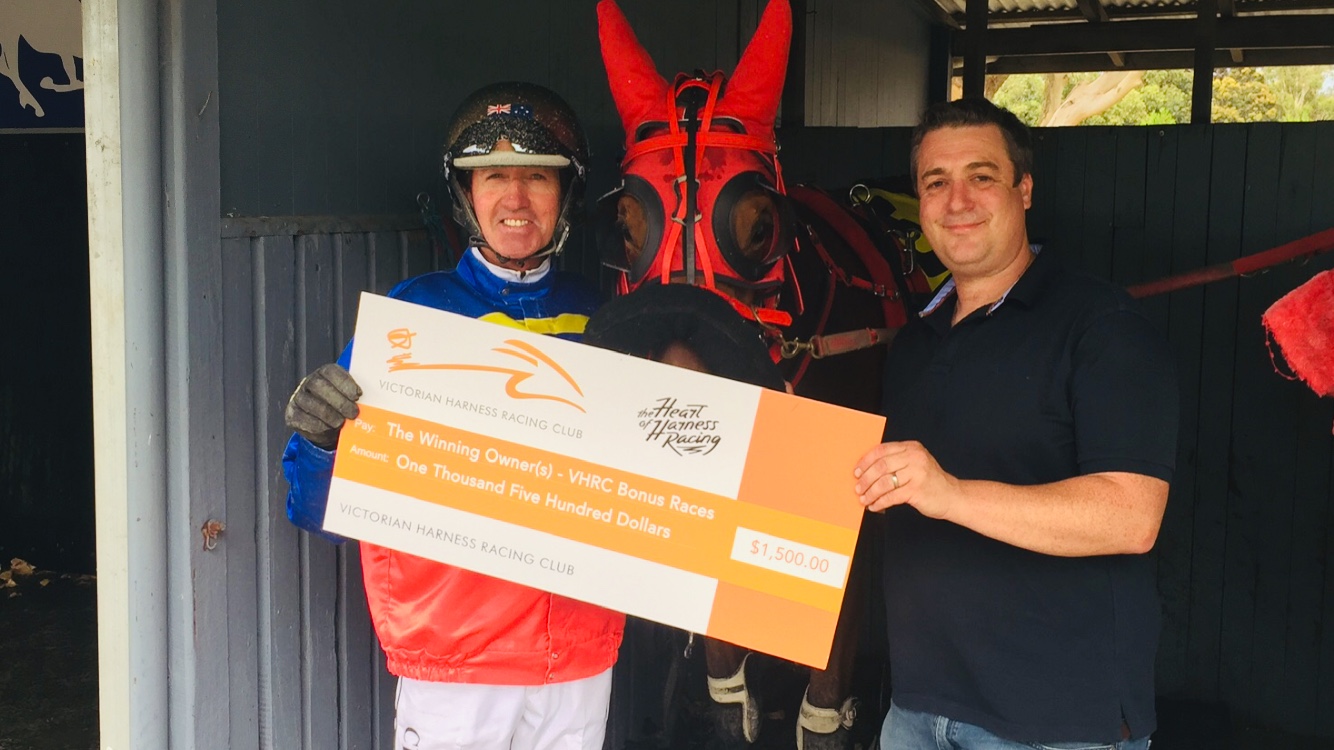 Tue 29 Dec 2020, 12:25 pm
Congratulations to all VHRC members who have taken advantage of the opportunity to join the club and receive the benefits of the owners and trainers bonus scheme.
Paid up owners and trainers were delighted to have been able to reap the rewards as their horses greeted the judge.
VHRC member Len Baker continues to look at the latest winners during December
Cranbourne hosted the latest bonus fixture on December 27 when an eight race program was held.
SUNDAY DECEMBER 27 – CRANBOURNE
Sunbury's Livingstone family bred and raced Danny Bouchea-Rockin Wilma gelding Roi Du Soliel the winner of the 2080 metre Become A Member Today 3Y0 Maiden Trotters Mobile.
Trained by Justin, Roi Du Soleil driven by Chris Lang began very fast to lead from gate five, before surrendering to Comandante which flew away from outside the front line. When Reigning Lillies after an easy time three back the markers eased into the open prior to the home turn, Lang angled away from the inside to follow her into the straight and pounced a short time later to score by 8.2 metres from Lutetia along the sprint lane from five back the markers. Reigning Lillies held down third 2 metres back. The mile rate 2-04.8.
The Livingstone family have raced horses for a long period of time, the best being the winners dam Rockin Wilma (10 wins), Hazpazzaz Royal Icing and Good Job all recording six wins each.
Ballarat's Ronan family – Wayne and parents Gerard and Leonie were successful with Sir Lincoln-Fortuno 5Y0 gelding Sir Fortune in the Join The VHRC 'The Heart Of Harness Racing' Pace over 2080 metres.
Trained at Glen Park (Ballarat) by Wayne and driven by son Connor, Scene Of Terror obviously derived a great deal of benefit from his first up outing a Swan Hill a week earlier when second to Courts Bliss.
Given a cosy passage three back in the moving line from gate two as Sir Fortune outside him led, Scene Of Terror gained a beaut ride three wide on the back of Bronski Royal ahead of him going into the final bend and after being balanced, ran home stylishly to score by a half neck over the pacemaker in a rate of 2-01.2. Bronski Royal was third 3.4 metres back.
Wayne has been around horses for many years starting off assisting Ballarat trainer Anthony Walsh and supplements his income by working as a muscle manipulator travelling far and wide on occasions including a Queensland trip once a year.
Wayne is no stranger to the winners list with handy types such as classy mare Treble Trebla (12 wins), Topsies Delight (6 wins), and Ideal Lifestyle (12 wins), with his best by far being Bettor Downunder (13) wins who were all good money earners.
Not only did Wayne share in the owners bonus, but also was rewarded with the trainers prize. He was full of praise for the VHRC for the introduction of these and thrilled to receive both.
The connections of 3Y0 Modern Art-Hotgossip gelding Van Gogh - Clive and Rachel Henderson along with Shane Arnel received their second VHRC bonus when the horse was successful in the Check Out The VHRC Website www.vhrc.org.au Pace over 1609 metres, as did Sutton Grange trainer Leigh Graham.
Driven by James Herbertson, Van Gogh starting outside the front line was eased at the start before going forward to drop into the one/one racing for the bell. Easing three wide approaching the final bend, Van Gogh ran home best to defeat the pacemaker Son Of Major by a half neck in a rate of 1-59.4. Diamond Cullen (three wide last lap from the rear) sustained a long run for third 4.1 metres back.
Miners Rest owner/trainer Nick Edwards received the owners bonus when his 6Y0 Bacardi Lindy-Strapon mare Bacardi Jess scored in the APG – The Industry's Not For Profit Sales C0. Trotters Mobile over 2080 metres.
Driven by Heathcote based Shannon O'Sullivan, Bacardi Jess enjoyed a cosy trip one/one from gate four after Angski vacated the one/one passage to park outside the leader Venkman which had taken over from Atego Titan. Joining Venkman on the home turn, Bacardi Jess outgunned the leader to gain the day by 4.5 metres, with Fling It Rainbow (one/two – three wide last lap), with Fling It Rainbow (one/two – three wide last lap) third 2.1 metres away.
Nick loves the trotter and had previously enjoyed success with Fremarksrooster, Hozatfora Sundon, Gin and Shes Excited.
TRAINERS
The APG & APTS Offers$2.2M In Prizemoney 3Y0 Pace over 2080 metres commenced the afternoon and it was Jodi Quinlan taking first blood in the trainers section as Bettors Delight-Fairest One Youare gelding The Chancer raced by Geoff Walker and Garry Rogers led for the majority of the journey to register a 4 metre margin in 2-00.5.
Driven by Jodi, The Chancer (gate five) although racing greenly, defied all challengers to defeat Steele which trailed after leading out from gate two, with Sundancer Rainbow (one/two – four wide home turn) third 1.6 metres back.
Jodi has an impeccable record at Cranbourne, winning the Cranbourne Cup on four occasions – Our Millers Road (1998), The Warp Drive (2006), Sting Lika Bee (2007) and Phoenix Prince (2019) as well as dozens of races at the venue.
Wayne Ronan (Scene Of Terror) – See above
Leigh Graham (Van Gogh) – See above