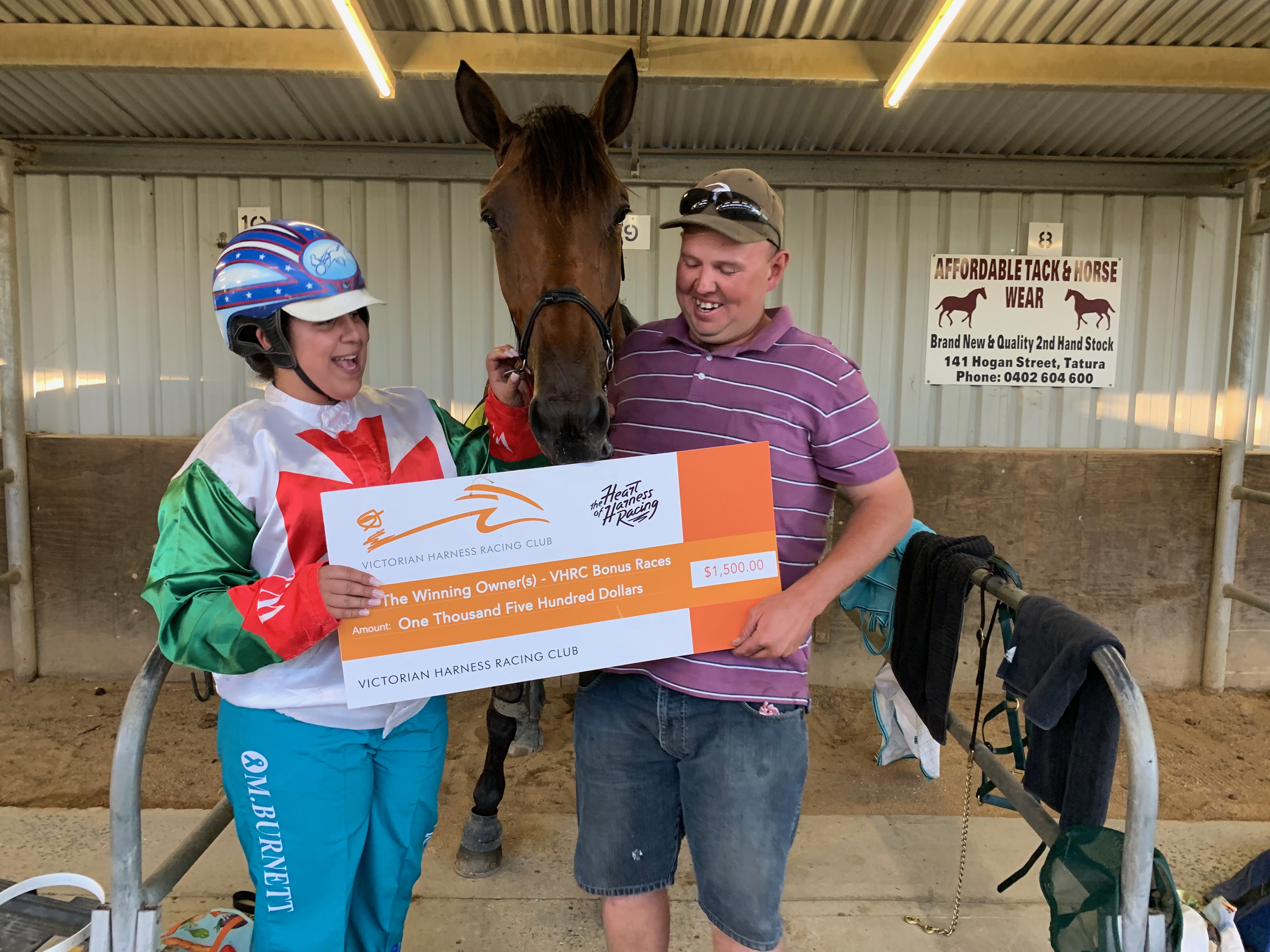 Thu 25 Feb 2021, 11:30 pm
Congratulations to all VHRC members who have taken advantage of the opportunity to join the club and receive the benefits of the owners and trainers bonus scheme.
The response has been outstanding of late with a plethora of participants joining the scheme.
VHRC member Len Baker looks at the latest winners.


THURSDAY FEBRUARY 25 – ECHUCA
It was a thrilling finish to the VHRC – APG Bonus Race Series Pace over 1755 metres taken out by 7Y0 Christian Cullen-Pk Bunny entire Goodlookin Rooster in a mile rate of 1-58.4 much to the delight of the Weidenbach family and partners.
Raced by Paul Weidenbach and co-owners Bernie O'Kane, Bluey Thorn and wife Anne, Goodlookin Rooster trained at Wahring by Rosie Weidenbach with Paul assisting, was driven by daughter Olivia and raced uncovered from gate four all of the way, fighting on like a bulldog to prevail by a nose from Lagom which trailed the weakening leader Renway Reactor using the sprint lane, with Courts Bliss flying home late along the sprint lane for third a nose back. Renway Reactor a nose away fourth.
Rosie Weidenbach a member of the Mifsud family along with sisters Rita Burnett, Josie Wilson, Gaita Pullicino and brothers Annetto and Austin Mifsud have played a huge role in Victorian harness racing with their father Leli being successful with many juveniles during the Showgrounds era, especially Son Of Jackavin.
Barnbartha's Brian and Judy Bourke were successful with home bred 5Y0 Red Samurai-Starlights Silver mare Starlight Red in the 2160 metre APG – Serving The Industry 32 Years Trotters Mobile.
Trained by Brian, Starlight Red driven by Laura Crossland began very fast from outside the front line to lead and after being allowed to run along, defied all challengers to record a 7.6 metre victory over Romances (four back the markers – three wide last lap). Kilarney Heidi was third 2.6 metres away after racing exposed from the bell. The mile rate 2-03.6.
Kilmore mother and son Julie and Willie Mifsud's 8Y0 Yankee Paco-Zhari Belle gelding Daquiri chalked up his 12th success in 78 outings after greeting the judge in the Become A Member Today Trotters Handicap over 2130 metres.
Driven by Monique Burnett for Kilmore trainer Thomas Parnell, Daquiri after beginning smoothly from a 30 metre equal backmark was soon racing in the coveted one/one spot after avoiding a few breakers at the start, with Whos Countn leading from barrier two. Easing three wide prior to the home turn, Daquiri loomed outside Whos Countn on the final bend, proving a little too strong over the concluding stages to win by 1.9 metres in 2-03.9. Bacardi Wood (one/two) was third 8.9 metres away.
Thomas Parnell has been associated with Rita Burnett and the Mifsuds for a long period of time and Daquiri was his second winner for the week after Alte scored at Maryborough on Monday.
The old team of Junortoun trainer Bruce Morgan and reinsman Tony Vlaeminck were victorious with honest 4Y0 Four Starzzz Shark-Ruby Slippers mare Polly Peachum in the 1755 metre Team Teal / VHRC Pace.
Raced by the pair, Polly Peachum occupied her favourite spot of leading from the pole and although heavily pressed on turning, fought on bravely to score by a nose from a death-seating Village Encounter in a mile rate of 2-01. Tearsonmypillow trailed the winner from gate two when third 2.5 metres away after using the sprint lane.
Bruce Morgan one of the sport's gentlemen originally from Swan Hill has been in the sport for an eternity and has trained in excess of 600 winners including mares Mother Courage and Montana Anna (Vic Oaks), plus Milady Denver, Denver Gift. Bonus Play, Walberon, Melbournian just to name a few..
Kyabram trainer/driver Brent Thomson's 6Y0 Auckland Reactor-Your Beautiful mare Time To React landed the APG – The Sales & Races To Owners Pace over 2160 metres.
Bred and raced by Tongala's McGill family, Time To React starting from gate two on the second line settled mid-field in the moving line as Roslyn Gaye flew out from gate five to lead before surrendering to Costly Mistake at the bell which had been outsider her. Going forward three wide in the final circuit with a great burst of speed, Time To React led on the home turn, running out a 4.7 metre victor over Hard Rock Shannon which followed her throughout, with Coolhand Easton (four wide home turn) third 1.9 metres away after trailing the pair. The mile rate 1-59.8.
Brent Thomson grew up in the sport helping his father Russell on a regular basis and started driving as a concessional reinsman at a young age and was victorious in winning the prestigious M & CTA Tom Danaher Junior Reinspersons Award during that time.
He enjoyed a great season last year and has continued in doing so this season. He has prepared 34 winners to date.
His greatest thrill was driving veteran trotter Master Keisey for Brian Keisey during a Melbourne (Moonee Valley) Inter Dominion Series.
Brent is assisted by wife Debbie and family on a daily basis.
Leviathan owner Emilio Rosati and wife Mary's Somebeachsomewhere-Leslie Jay gelding Turquoise Stride snared the 2160 metre APG – Not For Profit Sales C0 3Y0 Pace in a mile rate of 2-01.9.
Trained in partnership by Anthony Butt and Sonya Smith, Turquoise Stride worked past poleliner Goodmorning Cheryl shortly after the start and given an easy time, safely held his rivals to score by a metre from Danceforme (one/one – three wide home turn) and Goodmorning Cheryl who was 4.3 metres away after using the sprint lane. The victory gave Olivia Weidenbach a double for the night.
Anthony Butt needs no introduction having driven hundreds of winners internationally including his place of birth New Zealand.
The same could be said for wife Sonya Smith who worked for Tim Butt at one stage and was given the job of looking after handy trotter Realmein when campaigning in Victoria a few years back.
TRAINER BONUS
Rosie Weidenbach - See Above
Thomas Parnell – Daquiri - See Above
Bruce Morgan – Polly Peachum - See Above
Brent Thomson - Time To React - See Above
Anthony Butt & Sonya Smith – Turquoise Stride - See Above
Donna Castles – Sasscilian
A 6Y0 Maffioso-Sass And Bling gelding, Sasscilian driven by husband Doc Wilson led throughout, accounting for Celebrita (one/two – three wide to outside the winner for the last lap), with Lethal Lover third after following the runner up home. The margins a neck by 2.2 metres in a mile rate of 2-03.
Donna comes from a famous NSW trotting family, her father being C. J Castles.