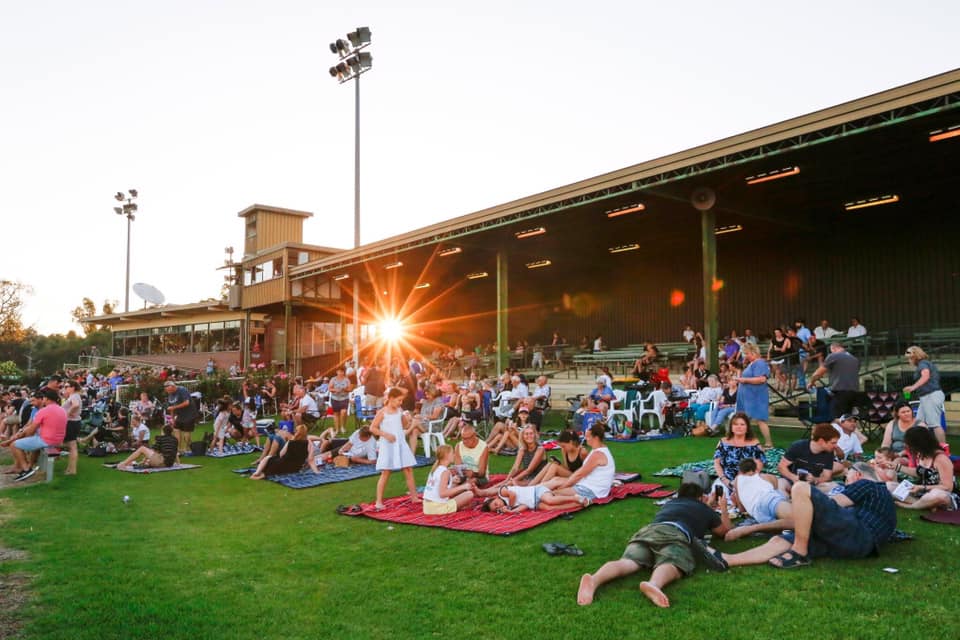 Sun 28 Feb 2021, 12:00 am
VHRC CADUCEUS ECHUCA CUP WEEKEND GETAWAY
Friday 19th, Saturday 20th & Sunday 21st March 2021
VHRC are delighted to invite members to join us for our upcoming Echuca Cup Weekend Getaway which is being held from Friday 19th through to Sunday 21st March 2021. Please find following the itinerary for the weekend and how to book information.

ITINERARY

Friday 19 March
ECHUCA PACING CUP NIGHT
Time – 6.30pm
Location - Simmie St, Echuca VIC 3564
Featuring the $35,000 Echuca Pacing Cup and the $14,500 JA Connelly Crystal Bucket
Come and be part of the VHRC members on course marquee at Frank Ryan Paceway, Echuca for the Echuca Pacing Cup Night meeting. If you enjoy being up close to the Harness Racing action on the 800m track, you will love Harness Racing at Echuca on their biggest night of the year – Echuca Pacing Cup Night.
Enjoy Complimentary finger food and drinks as part of two-hour happy hour in the VHRC Caduceus Marquee – from approx. 6.30-8.30pm.
Cost – Two-hour happy hour is Free for VHRC Members but bookings essential to assist with catering numbers as limited numbers apply. Cash Bar will apply for the remainder of the night.

Saturday 20 March
A LA CARTE BREAKFAST AT RICH RIVER GOLF CLUB (OPTIONAL)
Time – 9am
Location - Twenty Four Ln, Moama NSW 2731
Relax and unwind eating a delicious breakfast whilst overlooking the lush green fairways of magnificent Rich River Golf Club.
Cost - Attendees simply pay for their breakfast on the day at the Club, no need to pre book with VHRC.
GOLF DAY AT RICH RIVER GOLF CLUB IN MOAMA
Sponsored by Kelly+Partners Melbourne Chartered Accountants & Nutrien

Time – 11am
Location - Twenty Four Ln, Moama NSW 2731
Tee it up with prominent Harness Racing identities at the VHRC Golf Day on the Championship East Course at the outstanding Rich River Golf Club. Numbers are strictly limited to 40 golfers on this day so get in fast to secure your spot.
Cost $30 for 18 holes includes some great prizes. (Carts are available but must be hired separately at a cost of $45 per cart through Rich River Pro Shop 03 5481 3333)
VHRC CADUCEUS HARNESS RACING DINNER AND LIVE ENTERTAINMENT AT THE MOAMA RSL
Sponsored by APG
Time - 7pm
Location - 56 Merool Rd, Moama NSW 2731
Cost - $59 per person
Enjoy a great two course meal alongside VHRC Members and Harness and Racing identities in the new function room at Moama RSL. Watch all the harness racing action from Melton and Menangle live on the big screen. Listen to Guest Speakers MC Rob Auber – RSN Cracking The Codes team – Dan Mielicki, Matt Stewart and Simone Fisher plus many more surprises and giveaways. Enjoy a great night out with some legends of Harness Racing and enjoy the great live music from local act The TJ Show. A cash bar will apply on the night.


Sunday 21 March

YEARLING TOUR AT BENSTUD STANDARDBREDS, barbecue with light refreshments.
Time - 11am – 1pm
Location - 3189 Labuan Rd, Katunga VIC 3640
Enjoy a relaxing morning and refreshments at the magnificent harness racing property of Benstud Standardbreds in Katunga. Inspect and take a closer look at Benstud's upcoming Nutrien yearling sales draft which will be paraded on the day. Benstud is one of the largest producers of yearlings each year in the Country and each year without exception produces some of the top lots at the Standardbred Yearling Sales. You will be sure to be viewing some future champions at Benstud on this day.
Cost - Free for VHRC Members but bookings essential to assist with catering numbers.



TO BOOK
For all of the above events please contact Kelly Ternouth (VHRC) via phone 0408 570 197 or email contact@vhrc.org.au or you are welcome to download the booking form via our website. Please click here to access.


Accommodation Options in Echuca / Moama
There are plenty of great accommodation options in Echuca Moama to suit everyone's taste and budget. Here are some of them.
Please note - If you would like to book accommodation please contact the venues direct.
Madison Spa Resort, Moama – www.madisonspa.com.au 03 5482 3011
Cadell On The Murray Resort, Moama - www.cadellonthemurray.com.au 03 5482 4500
Quest Echuca - www.questapartments.com.au 03 5481 3900
Golden River Motor Inn Moama - www.goldenrivermotorinn.com.au 03 5480 9799
Bridges on Meninya Moama - www.bridgesonmeninya.com.au 03 5482 1885
Georgian Motor Lodge Echuca - www.georgianmotorlodge.com.au 03 5480 9048
Meninya Palms Moama - www.meninyapalmsmoama.com.au 03 5482 3311
Pevensey Motor Lodge Echuca – www.pevenseymotorlodge.com.au 03 5482 5166
For additional accommodation options in Echuca Moama, refer to www.echucamoama.com