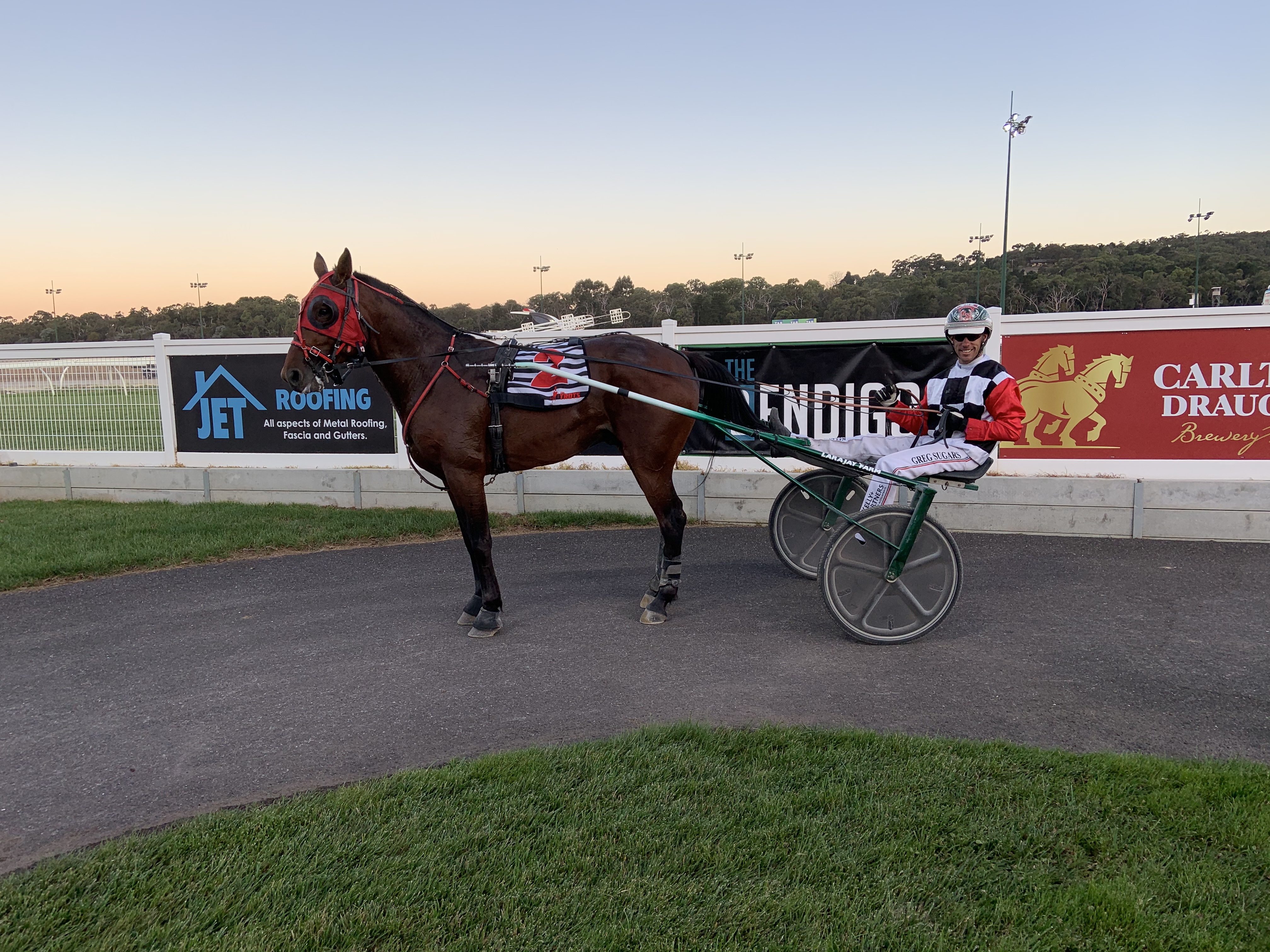 Fri 15 Jan 2021, 8:40 am
Congratulations to all VHRC members who have taken advantage of the opportunity to join the club and receive the benefits of the owners and trainers bonus scheme.
Paid up owners and trainers were delighted to have been able to reap the rewards as their horses greeted the judge in their respective races.
VHRC member Len Baker continues to look at the latest winners to start the new harness racing season.
It was Kilmore's turn to host on Thursday January 14 when a seven event card was held giving owners and trainers who were members an opportunity to receive the thrill of the bonus benefit.
THURSDAY JANUARY 14 – KILMORE
The Don't Miss Out on the VHRC Bonuses Pace over 1690 metres opened the program with ex-South Australian 7Y0 Pay Me Christian-Jesse Grant mare Joanandi victorious in a mile rate of 1-57. Trained at Mt Cottrell by reinsman Rhys Nicholson for Sunraysia owner Michael Falvo, Joanandi settled three back in the moving line from gate three and after a cosy passage was sent forward in the back straight on the final occasion to join the favourite Glens Of Tekoa which had raced exposed before striding clear of the weakening leader Cee Cee Norman halfway along the back straight. In a two horse battle up the running, Joanandi vigorously driven scored by 6.6 metres from Glens Of Tekota which battled on gamely, with Gigis Grinner 5.2 metres back after trailing the front runner and moving away from the inside in the last lap.
Honest six year old Majestic Son-Im Rite Or Wrong mare Ima Calvert Rose notched up her 4th success (17 placings) in 99 outings by taking the Check Out The VHRC Website www.vhrc.org.au Trotters Mobile over 2180 metres. Trained at Bet Bet by veteran former Queenslander Ray Cross for himself and wife Janelle, Ima Calvert Rose driven by Greg Sugars after starting from gate two on the second line, possied three back in the moving line as Aunty Ethal led from gate four. Easing three wide racing for the bell to join the leader on the final bend, Ima Calvert Rose was too strong over the closing stages to register a 1.3 metre margin in a mile rate of 2-06. Louieville Lass was third along the sprint lane 1.4 metres back after trailing the pacemaker.
The APG – Not For Profit Sales Trotters Handicap over 2150 metres saw Ray bring up a double as did Greg Sugars when 4Y0 Imperial Count-Ima Thrill Seeker entire Whos Countn led virtually all of the way from barrier two, accounting for the ever reliable Mystic Chip which trailed using the sprint lane to fail by a neck. Rank outsider Lucky Pats Son (three back the markers) was third 6.7 metres away. The mile rate 2-05.6.
Ray Cross won his first race in 1954 at Monto west of Bundaberg on the Queensland show racing circuit when travelling from Brisbane to Cairns and stopping at numerous towns along the way to compete at these unique race fixtures.
He has in excess of 516 wins to date.
After making regular trips south with a smart mare by the name of Honey Please, Ray made the decision to settle in Victoria and certainly has no regrets.
Kurranjang trainer Maree Caldow snared the Join The 2180 metre VHRC "Heart Of Harness Racing" Pace with Sunshine Beach-Indigo Smith filly Seaside Sister much to the delight of owners Don & Robyn McKenzie. Driven by husband and co-trainer John, Seaside Sister began swiftly from gate three to lead and was never headed, scoring by a metre in 2-01.1 from Twisted Bliss (one/one – three wide last lap) and Holdontight from last who trailed the runner up into the final bend 1.9 metres back in third place after easing wide on turning.
The McKenzie's have a long association with the Caldow's having raced numerous horses and were delighted to receive the bonus.
Don last year chalked up 50 years as a member of the club.
Youthful Mt Cottrell part-owner/trainer Luke Tabone's 5Y0 Auckland Reactor-Genuine Investment mare Lady Lani chalked up her 8th success at start number 72 when greeting the judge in the 2180 metre APG & APTS Offers $2.2M In Prizemoney Pace. With Chris Alford in the sulky, Lady Lani (gate six) went forward to momentarily park outside the pacemaker Silky Smooth Excuse (gate two) before crossing shortly after. Given an easy time, Lady Lane ran to the wire strongly 9.3 metres in advance of Silky Smooth Excuse which stuck on well in a rate of 2-01.6. Causing Strife (five back the markers) ran home along the sprint lane for third 6.1 metres away.
Luke is doing a grand job as a trainer and races the horse in partnership with girl friend Allanah Logie.
He has recorded 14 wins to date and still holds a drivers licence.
Seven year old Somebeachsomewhere-Awakemecate gelding Boy From Bondi racing under the banner of Sholto Pty Ltd for Euroa owner John Stringer recorded his first victory since June 2019 when a brilliant winner of the Become A VHRC Member Today Pace over the sprint trip of 1690 metres. Now in the care of Wayne Potter at Avenel, Boy From Bondi driven by Chris Alford and first up since October settled four back in the running line from gate two on the second row as noted speedster Ace Duigan was driven with aggression from outside the front line to lead. Following Wotdidusaaay ahead of him forward three wide in the final circuit, Boy From Bondi sprinted brilliantly to the wire, scoring by 5 metres from Celestial Gossip with raced in the open from the bell. Wotdidusaaay was third 2.3 metres back. The mile rate 1-55.6.
John Stringer a farmer has been involved in harness racing for many years as an owner/breeder and was "over the moon" when Boy From Bondi returned to the winners list after a number of problems along the way. His best horse being Kissmecatie a mare by Our Sir Vancelot from Awakemecate foaled in 2005 who won 16 races. He was thrilled to receive the bonus complementing the VHRC on the scheme.
TRAINER BONUS
Rhys Nicholson - Joanandi
Ray Cross – Ima Calvert Rose & Whos Countn
Maree Caldow – Seaside Sister
Luke Tabone – Lady Lani
(All listed above)