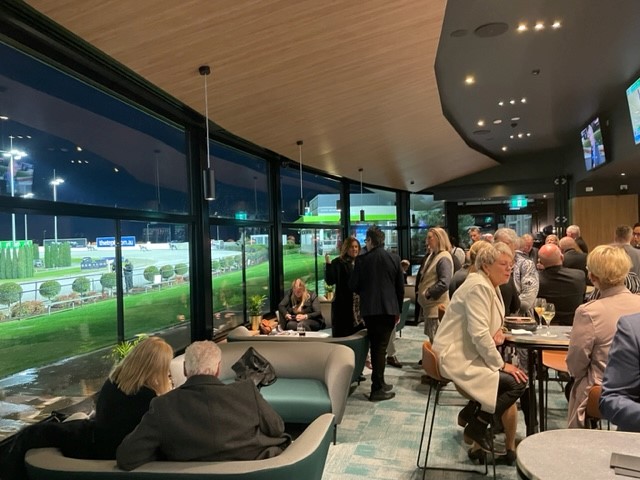 Mon 8 May 2023, 8:33 am
Opening of New VHRC Members Facility at Tabcorp Park, Melton – Saturday Night 13 May 2023
The unveiling of the new VHRC Members Facility at Tabcorp Park, Melton to our valued VHRC members will take place at the Metropolitan Harness Meeting next Saturday 13 May 2023.
The new VHRC Members Facility will be known as 'The Club Lounge' and will be a stylish modern boutique facility in a great location on the ground floor in close proximity to the winning post. A soft opening of the room occurred last night with HRV Officials, VHRC Committee representatives and Corporate Partners on hand to sample the new facility. All in attendance were suitably impressed with the look and feel of The Club Lounge which is certain to quickly establish itself as the place to be when enjoying a night out at the Trots at Tabcorp Park, Melton. Photos from last night's soft opening are shown below.
To celebrate the opening of The Club Lounge to VHRC Members next Saturday Evening 13 May, complimentary beer, wine and soft drink will be served between 6pm and 7pm and there will also be complimentary canapes for members to enjoy.
It's an early start next Saturday Night with the first race scheduled to commence at 4.52pm and the last of ten races at 9.45pm. Members will need to show their VHRC Membership Card in order to gain access to The Club Lounge. Guest passes can be purchased from the Tabcorp Park raceday office at a cost of $15 (this includes a drink voucher) however due to numbers expected to be in attendance for opening night next Saturday, members will be limited to purchase one guest pass per member.
Members and guests must adhere to a strict smart casual dress code when attending The Club Lounge and attendees will be denied entry unless suitably attired. Examples of neat casual dress include jeans and a collared shirt for males, and jeans and a top for females.
Unacceptable Attire:
Footwear: thongs, scuffs, dilapidated footwear, gumboots, moccasins, slippers and ugg boots.
T-shirts, singlets, torn or ripped clothing (even if 'designer' tears), shirts not supported by a collar (including crew neck shirts).
Football, running, athletic, bike, tennis shorts/skirts, board shorts.
Sporting jerseys (including rugby and football tops
Tracksuit pants, jodhpurs,
Work/trade wear and hi vis
Beachwear or bikini tops and tops showing bare midriff.
Any clothing displaying racist or similarly offensive messages.
beanies
We look forward to seeing many members in attendance next Saturday for the long awaited opening of The Club Lounge.