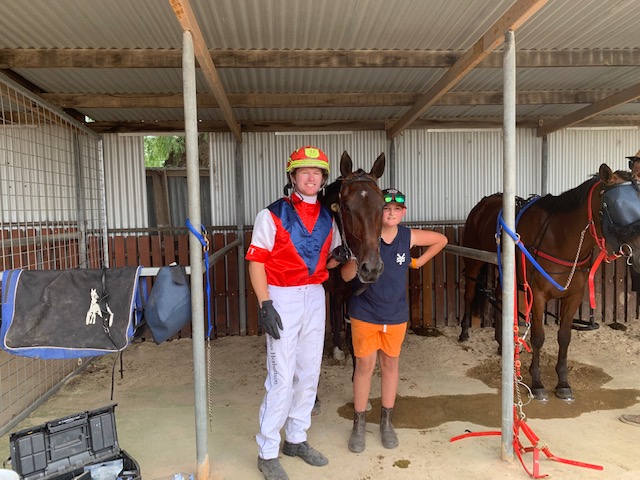 Tue 26 Jan 2021, 9:45 pm
Congratulations to all VHRC members who have taken advantage of the opportunity to join the club and receive the benefits of the owners and trainers bonus scheme.
Many more paid up owners and trainers were delighted to have been able to reap the rewards as their horses greeted the judge in their respective races.
VHRC member Len Baker looks at the latest winners.

MONDAY JANUARY 25 - STAWELL
It was Stawell's turn to host the bonus day with a neat compact nine event card and once again a number of VHRC members enjoyed the pleasure of receiving the benefits.
Local part/owner-trainer Chris Blake drew first blood when 4Y0 A Rocknroll Dance-Ideal Tact mare Tic Tact raced in partnership with Melbournians Neil McLean and Mark Bennett along with daughter Melinda Blake led throughout from gate two with Grant Campbell aboard, dictating terms to suit before kicking clear to land the Don't Miss Out On The VHRC Bonuses Pace over 1785 metres.
Chris involved in the sport for over 30 years has prepared 46 winners to date, his best being Your Invited along with Problem Solved, Uninvited and Meadow Glory.
Chris and fellow owners were rapt to be able to win the bonus.
Adelaide owners the Cormack family had previously received the bonus and 5Y0 Art Major-East West Star mare Demonstrator gave them another one after winning the 1785 metres APG – The Industry's Not For Profit Sales Co Pace. Trained at Great Western by Peter Manning, Demonstrator with stable assistant Jason Ainsworth driving was given a cosy passage one/one from gate five and after easing three wide on the final bend, finished best to defeat the leader Nikks Pick by 4.2 metres in a rate of 1-57.3. Fourth In Line after sprinting sharply in the back straight on the final occasion to be outside Nikks Pick on the home turn, weakened slightly to be third a neck away. It was Demonstrator's first success in 16 outings.
Terang trainer Marg Lee's 5Y0 Village Jolt-Christmas Cullen mare Go Go Jolt led all of the way from gate two in the Laidlaw Family/VHRC Pace over 1785 metres much to the delight of the large number of stable clients who share in the ownership. With youthful neighbour Lochie Cook holding the reins, Go Go Jolt a winner of four going into the race was best to begin from gate two and after an easy time, defied all challengers to reach the wire 2 metres clear of Corporal Bill which trailed using the sprint lane, with Hook Eye Joh (four wide home turn from the rear) running on late for third a nose away. The rate 1-57.3.
Marg Lee part of the large Craven family needs no introduction, having won many classic Sires Stakes and Breeders Crown races for the Lee/Craven families in the past.
Another large number of owners headed by co-trainers Beau and AJ Tindale, Chris Hicks, Stewart McDonald, Andrew Wylie, Brett Liddle and Shane Taylor were elated when honest 4Y0 Pet Rock-Double Justice mare Rosarito Miss chalked up her sixth success in 40 outings by taking the 1785 metre VHRC – APG – APTS Bonus Race Series Pace. Driven by James Herbertson, Rosarito Miss was able to cross polemarker Execution Oro at the start and was rated well in the lead. Although Execution Oro looked some chance after using the sprint lane on turning, Rosarito Miss with Herbie driving extremely confidently fought on gamely to prevail by a neck in a rate of 1-56.3. Jilliby Dyson after racing exposed battled on strongly to hold down third 5.3 metres back.
Beau and AJ always receive a tremendous kick out of winning races and were thrilled to receive the bonus being so complementary towards the VHRC for the introduction of such.
Horsham owners Barry and Yvonne Dunn have enjoyed lots of happy moments in the sport and 5Y0 Courage Under Fire-Lombo Socialite gelding Glenavril King scored his eighth success when victorious in the Become A VHRC Member Today Pace over 2180 metres giving champion reinswoman Kerryn Manning her 4000th winner in the sulky. Trained by Kerryn assisted by husband Grant Campbell at Great Western, Glenavrill King enjoyed a sweet passage from inside the second line trailing the poleline leader Our Georgia Rose. Slightly held up on the final bend as the pacemaker started to give ground, Kerryn waited patiently for the sprint lane to come into vogue and when it did, Glenavril King sprinted like a gazelle to register a 3.2 metre margin over Image Of Starzzz which trailed John Richard forward three wide in the last lap. Jackierabbit was third 1.4 metres away after following the winner throughout. The mile rate 1-58.9.
Barry and Yvonne Dunn have won numerous races since their involvement began many years, racing horses such as good mare Nikkibadwagon and Dee Dees Dream who won 38 races and over $400,000 in stakes.
They always get a thrill when crossing the line first and received a bigger one by winning the bonus.
WINNING TRAINERS
JANET EXELL - PRINCESS ALEXANDRA
Driven by Mt Gambier's David Drury, Princess Alexandra was given an easy time from gate two trailing the pacemaker Sheeza Pony in the APG & APTS Offers $2.2 Million In Prizemoney Pace over 1785 metres. After using the sprint lane, Princess Alexandra scored by 1.4 metres over the long priced leader to return a mile rate of 2-01.2. Irish Murphy was a fighting third after racing exposed throughout.
MARG LEE - GO GO JOLT (See above)
KERRYN MANNING – GLENAVRIL KING (See above)
PADDY LEE – MILLY AN EYRE
Paddy junior brother of prominent driver Jason loves the square trotters and after combining with Lochie Cook who chalked up a double, Milly An Eyre, a Kiwi bred 7Y0 daughter of The Pres and Millwood Munchkin (gate five) was able to take over on the first turn from Allawart Bob (gate two) and lead for the majority of the 2180 metre journey of the APG – Serving The Industry 32 Years Trotters Mobile. Kicking clear on turning, Milly An Eyre held on by 1.7 metres from the long odds-on favourite Lotamuscle (one/one – three wide home turn) which ran on late to just fail. Rank outsider Allawart Bob held down third 6.2 metres away after trailing the winner. The mile rate 2-02.9.